From strangers to part of "One Family"
Park University counselor donated kidney after seeing social media plea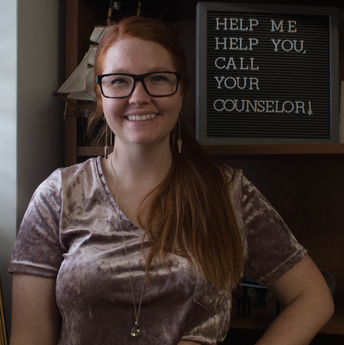 "I was worried."
That's what Lindsey Edwards, 28, remembers Gavin Finch, 21, saying to her after they completed surgery to give Finch one of Edwards' kidneys. She said Finch told her, "I was worried that we were going to go through this, and if it failed, you would have done this for nothing."
Edwards is an admissions counselor at Park University. On her lunch break sometime in early August 2018 she saw a tweet from Park's official Twitter account. They had retweeted a Park nursing student named Allyson Braymer, who was sending out a plea to social media to help her find a kidney donor for her boyfriend, Finch.
Finch has a disease called IgA nephropathy, an autoimmune disease that attacks the kidneys. Finch and Braymer were both blindsided by the diagnosis. Finch had not suffered from any symptoms, but his kidneys were failing. On March 28, 2018, he had to start dialysis. He spent 48 hours a month for the next eight months doing dialysis treatments.
"In the tweet it said he was A+ blood type. I knew from donating blood that I was A+," said Edwards. "I took down the [KU Transplant Donation Line] number and put a sticky note on my computer. I looked at it for a couple of days, and I thought 'maybe I should do this.'"
Edwards called the University of Kansas Medical Center to request an evaluation.
"It's not just blood type," Edwards said. "There's quite a few hoops to jump through."
To become a donor, you have to have an acceptable blood pressure level, the tissue must match and the same number of arteries and veins entering and leaving the kidney. Donors also go through tests to make sure the remaining kidney is enough to keep them healthy.
Edwards had to go through an additional test that not all donors have to complete: a psychological evaluation. Since Edwards was a complete stranger to Finch, the medical team needed to verify she was doing it for the right reason.
Being a living donor is something that has been in the back of her mind for a long time. Edwards had been a volunteer for Camp Quality, a camp that serves children who have, or who have had cancer, since she was 16.
She explained that a lot of the kids she met there had received some sort of transplant. One child she remembers specifically was Emary Langhorn, who was in her cabin, and had received a bone marrow transplant. Seeing how much of a positive impact that donation had on Langhorn had cemented the idea in Edwards' mind.
"Emary actually grew up with Gavin and Ally," Edwards said. "Emary, without knowing it, played a big role in why I wanted to donate to Gavin. I got to see how it had transformed her life and increased the quality of her life."
Edwards went through all of the testing and was a 94 percent match for Finch, which is high for people who are not family members.
On Oct. 3, 2018, Edwards learned that she would be able to become a donor for Finch. That same day, she messaged Braymer and Finch to let them know, and asked if they wanted to meet.
"Luckily for me, they did want to meet," said Edwards. "We met up the next week and decided on our surgery date, which was on Nov. 6. We had dinner. It was really great, and we talked for hours and hours. It felt like they were a couple that we had known our whole lives."
"Something I would say about Gavin's character," Edwards said, "is after the pleasantries of that first meeting, he looked at my husband and asked 'are you okay with this?' I found that very mature that he took Jake's feelings into consideration. That really put Jake at ease, and now they're really great friends."
She explained that Jake Edwards, her husband, had been anxious about the surgery.
"This wasn't a surgery that I needed to do. He of course was thinking about the what-ifs," she said.
Both of their surgeries went well, and they both recovered quickly.
"I was out of work for two weeks, but I have a whole other family now through this process," Edwards explained. "They are so funny. Gavin is probably one of the funniest people I've met. Through the whole process he had a really good humor about the whole thing, which made it an easy process."
Finch was lucky. Most people who need a kidney have to wait five or more years for a kidney donated by a deceased person. Cadaver kidneys typically last around 12 years. The living donor waitlist is much longer, but Edward's kidney could potentially last Finch for 20 years.
"I would like people to know what an impact a living donor has," Edwards said. "Of course, you affect the person receiving your organ, but it's going to spread out from there. It's going to affect their family, their friends, their coworkers and their community."
Edwards explained that all of her medical care was free for the transplant.
"The only thing I paid was $3 in parking," she said.
Organ donors also receive free medical care if they ever have any complications from the surgery and are put to the top of the list if they ever need an organ transplant themselves.
"Post-surgery, we get to talk to Gavin and Ally all the time," Edwards explained. "We all have a group chat where we send stupid memes to each other. We go to dinner with them once a month."
Getting to see the benefit of her donation has meant a lot to Edwards. "They're getting to live their lives on their timeline now," she said.
For anyone that is considering being a living donor, Edwards highly emphasized getting educated about the process.
"It's been a really amazing experience," she said. "I talked to other people who donated. There was not a single person that I talked to that regretted becoming a living donor."
Edwards was unwavering in how amazing it is to donate an organ.
"You can literally be the deciding factor between someone's life and death. If nothing else, the quality of the time that they have left," she said.