The rapid success of "The Bible in a Year" podcast is no mistake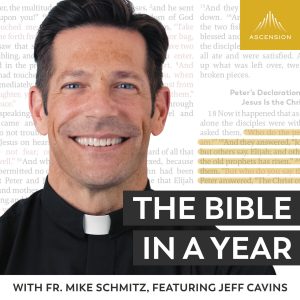 It took just 48 hours for "The Bible in a Year" podcast to hit the top spot on Apple Podcasts, passing more established podcasts from The New York Times and NPR along with "The Joe Rogan Experience" and "The Ben Shapiro Show."
The podcast dropped to second after 17 days and has since dropped to fourth, but it has managed more than 7 million downloads and more than 11,000 5-star reviews since it was launched. While it has lost some steam, it still remains in the top spot in the Religion and Spirituality category on Apple Podcasts, topping "The Bible Recap," "Joel Osteen Podcast" and a couple of podcasts from the "Duck Dynasty" family.
This podcast's success is easy to understand. Listeners can hear an upbeat, knowledgeable host read through scripture and hear his reflections with exceptional production quality. This podcast delivers what many needed during these tumultuous times.
"The Bible in a Year" is hosted by speaker and author the Rev. Mike Schmitz, a Roman Catholic priest from the Diocese of Duluth, Minnesota. Schmitz publishes an episode a day between 17 and 25 minutes in length. There are also additional featured episodes throughout the year with author and biblical scholar Jeff Cavins.
The podcast, a production of Ascension, plans to read through all 73 books of the bible in 365 days. The podcast follows the reading plan from Jeff Cavins' "The Great Adventure Bible Timeline Bible study and reads from the Revised Standard Version Catholic Edition of the Bible.
Each day listeners can hear two or three readings from scripture before Schmitz provides the context and a reflection of the readings. Cavins will pop in for featured episodes to help the listeners better understand the context throughout each time period.
Schmitz started from the first chapter of Genesis on Jan. 1 and will end with the last chapter of Revelation on Dec. 31. The podcast read through all of Genesis and Job in the first month and has begun to read through Exodus and Leviticus. The podcast also continues to read smaller passages from Psalms.
The Bible in a Year podcast does an excellent job of providing the proper context and explains how the readings are relevant today. Schmitz relates the problems of then to now and how our struggles are similar.
An example of this came in Genesis when there was so much brokenness through deception and disobedience within the families. Schmitz explained that there are no perfect families. Even Jesus' genealogy was marked with brokenness. Schmitz explained that God can write straight with crooked lines. Even when we choose evil, God can bring about a greater good.
Another good thing about this podcast is that listeners don't have to be around for the entire time to understand what is going on. Listeners can receive the daily schedule for free by filling out their information on the Ascension website. If you want to go through the Gospels but not much else, you can follow the schedule to see when they reach that point.
Many struggle to consistently read scripture, but this podcast offers a great way to stay on track and get through the entire Bible within a year with the guidance of two extremely well-informed men. The limited time for each episode also makes it relatively easy to catch back up if you fall behind.
While this podcast won't make you a theologian or a biblical expert, it will give you a solid understanding of the story of scripture.