Good times with good friends in Mass.
It's been over three months since I was studying abroad in Greece. When I left, it was very hard. It was the first time in my life that I was surrounded by a big group of women who were all amazing and supportive. When I had to say goodbye to them, I was unsure if or when I would see any of them again.
Luckily, my friendships were strong. One of my friends in Mass. was invited to a career fair and is in a similar field to mine. We call each other every week, and one week she told me about this opportunity. She said she wanted me to go with her "if I lived closer," so I reminded her that there were airplanes. I looked at prices and they were super cheap, so I booked it and off I went to see my friends.
I arrived on a Thursday and immediately start catching up with the two girls I was staying with. We talked about everything under the sun and it felt like no time had passed since we last saw each other. I also have several friends in New York, so 2 decided to drive down and see me as well.
We spent so much time talking, hanging out and just completely having a great time.
I got to see their college, Westfield State University. My friend, Myranda, is president of TV club and works for their broadcasting team so I even go to see their TV studio and compare it to Park University's.
Then, it was time to say goodbye to my friends from New York. We talked about the next time we would see each other. I tried to convince them to come to Kansas City, and they tried to convince me to go to New York City, but either way I know I will see them again.
Next, I said goodbye to one of the girls I was staying with. I was leaving early the next morning with Myranda to go to the career fair, so I said goodbye on my last night in Westfield.
Then, I went to Boston for the career fair at Fenway Park. It was a sports and entertainment career fair, so I was able to meet with all kinds of sports teams from the Northeast region.
We also got a ticket to the Red Sox game that night with the career fair ticket, so we were really able to get the Fenway experience. We cheered for the team, helped start "the wave" and sang Sweet Caroline and Take Me Out to the Ballgame as loud as we could.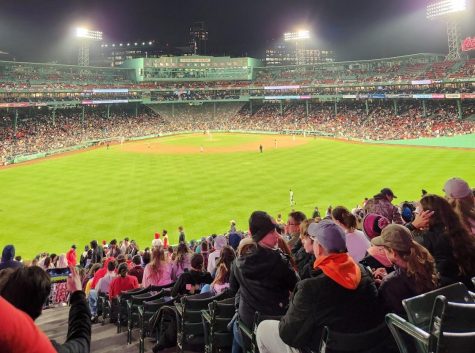 All in all, it was a great last night. I said goodbye to Myranda at my hotel that night and went to the airport the next morning to fly back to Kansas City.
While saying goodbye is always tough, it is good to know I have friends across the country who want to visit me as much as visit them.