"Darkest Hour" exhibit shines light on PTSD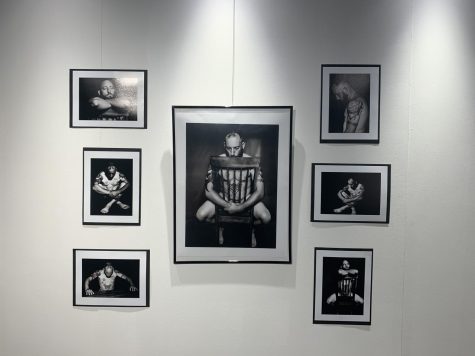 The Campanella Gallery in Norrington Center is showcasing an exhibit titled "Darkest Hour" featuring works by Park University senior interdisciplinary studies major and military veteran Laura Albate.
This exhibit is free to the public and is open Oct. 7 to Nov. 22.
Featured in the gallery are black and white portraits which were captured to show the vulnerability veterans face on a daily basis.
The exhibit is unique to Park University and the Campanella Gallery because of its focus on military veterans' PTSD. It is also unique because of how the subjects are depicted.
"This is a really powerful, meaningful exhibit," said Professor of Art and Program Coordinator of Fine Arts Andrea K. Lee, Ph.D. "It's a photographic essay using human figures, but it's exploring the topic of post-traumatic stress for service members."
The purpose of this exhibit is to show how post -traumatic stress can affect people. In particular, its effect on veterans and the people they share their lives with, including family, friends and co-workers.
There are a total of eight subjects featured in the portraits. All are pictured nude in order to express the vulnerability they each face due to their time in the military.
This exhibit is solely black and white photography. The subjects are showcased in their own individual segments consisting of seven different photographs. Each segment expresses the individual's own struggles.
Park University students took part in viewing the gallery on its opening day.
Shelby Adkins, a senior and multimedia journalism and public relations major, said she enjoyed the exhibit because of the artist's talents and her expression of realness within the portraits.
"Something that I really enjoyed was the amount of craftsmanship that went into this work," said Adkins. "I think it takes a certain kind of person to do a subject this heavy, and so I think it takes a lot of craft and understanding of how to approach this situation and how to artistically capture these photos."
Most Park students said they thought this exhibit was particularly unique compared to previous exhibits featured in the Campanella Gallery especially because of its focus on issues faced by strong people.
"I enjoyed the different faces of the exhibit and how it shows or portrays PTSD," said Cesar Duron, a sophomore international business major. Duron is a Marine Corps veteran.
Many Park students who visited the exhibit said the artist did an accurate job in expressing how veterans feel after their time serving.
"It goes into well into detail on how veterans feel after coming back from war," said Anika Ruskievicz, a junior multimedia journalism and public relations major.
Duron discussed which piece made the biggest impact to him during his visit.
"The picture that speaks to me the most is the one of the guy doing yoga, because it seems like he's meditating to find himself and be free," said Duron. "He found his art form of mediating so that why he's not trapped inside, a way to open up, and be contained."
"I think it's important for people to visit this exhibit in general, but it's especially important for Park University students because we have such an outreach with all of bases that have like Park University campuses on them and things like that," said Adkins. "These are people who are part of our community, part of our student community, and it's important to understand how they feel and to include them."
The exhibit can be viewed any time during Norrington Center's hours. It is open Monday through Thursday from 7:30 a.m. to 9:30 p.m., Friday from 7:30 a.m. to 4:30 p.m., Saturday from 10 a.m. to 4 p.m. and Sunday from 4 to 9 p.m.
The public will also have the opportunity to talk to the artist during the artist reception on Nov. 2, from 2 to 4 p.m. During this time, the public will be able to ask the artist questions about the exhibit.
"There's not a formal presentation, but the artist will be there and will be happy to answer questions about the exhibit," said Lee. "It's an opportunity to celebrate the artist and the models and the veterans."