Students received free donuts and goodies at Donut Stress Fest
With finals approaching, students have a lot to handle. PSGA and Pirate Fitness held the Donut Stress Fest to help give an outlet for students and ease their finals stress. The first 100 students to attend the Stress Fest received tickets for free donuts and got a box of goodies for stress relief.
On Monday, April 26, from 10:30 a.m. to 12:30 p.m., the Donut Stress Fest brought in the Cowtown Mini Donuts mobile food truck, which served six mini donuts flavored cinnamon, strawberry, and one with colorful sprinkles, that were all similar to funnel cakes.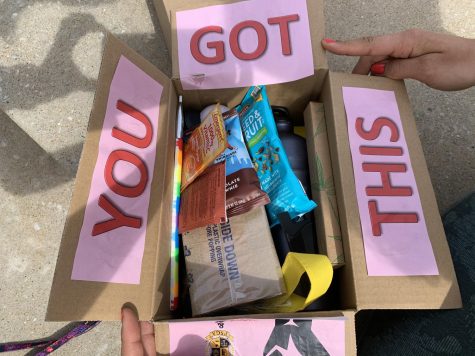 PSGA and Pirate Fitness also put together Stress-Less Boxes that held all sorts of goodies for students to enjoy. The box was lined with an encouraging message that said, "YOU GOT THIS." There were different snacks, a Park pirate stress ball, a PSGA phone pocket card holder, a colorful bendy pen and more.
"Basically the idea is like because it's the last week before finals, we wanted to let students kind of have like, something to help them through the week, help them get through finals," said Savanna Wyatt, media manager of PSGA and junior multimedia journalism and public relations major.
Wyatt, PSGA members and Pirate Fitness worked together to create the Stress-Less Boxes and bring a tasty treat to students preparing for finals.
The Donut Stress Fest was "kind of like a good luck note from all of us at PSGA and Pirate Fitness," said Wyatt. These students now have some snacks and goodies to help them during finals week.