ICM Student Orchestra and Director Debut
Hang on for a minute...we're trying to find some more stories you might like.
On Nov. 15 in the Graham Tyler Memorial Chapel, Steven McDonald made his debut as Park University's International Center for Music director of orchestral activities. McDonald led 16 ICM students and six guest musicians through three selections by Bach, Martinu and Mozart.
McDonald started his position at Park in August and is building a full student orchestra. Historically the program has been an incubator for talented musicians. However, concerts were often limited duets, trios, small ensembles, guest musicians or faculty showcases. McDonald is essentially starting the orchestra from scratch.
"I've never seen such commitment from the faculty and students," McDonald said. "There is incredible talent here; we have students winning national and international competitions, and they are based right here! But there is a different skillset in playing as part of an orchestra."
McDonald addressed the concepts that are learned as part of the experience of playing in the orchestra. The body language, subtle changes in rhythm and pitch, the various roles and leadership that exist as part of the orchestra. The practical experience these students are afforded is integral to the education they are pursuing.
However, McDonald highlighted a separate experience of the orchestra — its position with the audience. His goal is to build the audience locally, first among students and faculty.
"We are deliberately keeping these concerts at a manageable length," McDonald said, "to be able to present something for both experienced and new audiences alike."
True to his word, the concert came in at just more than an hour. The three pieces represented three very different styles, taking the audience on a fantastic journey.
It opened with Brandenburg Concerto No. 3 in G Major, BWV 1048, by Johan Sebastian Bach. The piece is familiar  to any connoisseur of classical music, and those that are not will likely recognize its distinct vivacious opening. The concerto leads to a dramatic and forceful presence.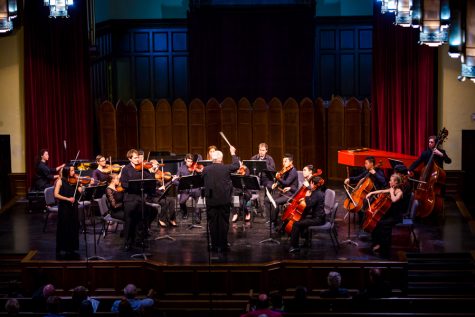 After a small set change and additional chairs, the full orchestra performed Divertimento (Seranata IV) by the Czech composer Bohuslav Martinu. This selection was a leap from the baroque styling of Bach into a much more modern take on classical music. The piece is represented by a chorus of individual voices playing in unison. The drama that unfolds in this piece is represented by a complex dialogue taking place among the musicians.
The final piece was Symphony No. 29 in A Major, K.201, by Wolfgang Amadeus Mozart. Opening with a bright and energetic introduction, the piece moves into an expressive and reflective movement, rising in the end to an energetic and impassioned crescendo.
The ICM will present two more student concerts next year.
Saturday, February 25, 2017, 7:30 PM and Sunday, April 30, 2017, 4:00 PM. Both will be presented in the chapel