From Rehab To "Rainbow"
Jon Hokenson, Reporter
September 13, 2017
The first time I heard Kesha, I was on a date I didn't want to be on, in a club I hated, holding an overpriced drink and entirely too many glow sticks. If the essence of an eye roll could be distilled into a word, that's how I would describe my thoughts on Kesha for almost a decade. I've never been so glad to be proven so wrong.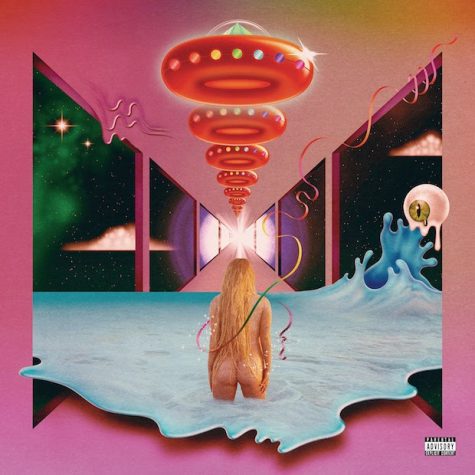 In 2014 Kesha broke with her producer, Dr. Luke, amid allegations of sexual, verbal, emotional and physical abuse. The two entered into a lengthy court battle over the contract. During that time, her ability to perform and record music was limited by Luke. Despite that, she has just released her first album since the ordeal began on Luke's Kemosabe imprint. "Rainbow" dropped on August 11. I have a very difficult time rolling my eyes when I'm repeatedly moved to tears.
The album opens with the song "Bastards." I should probably mention the album sports a parental advisory for language. Kesha counts down and starts singing, strumming a guitar. It's like the end of "The Wrestler" except it's not an end. It's a beginning. Have you seen "The Wrestler" with Mickey Rourke? If not you should really watch it tonight but when you get to the end, recall this article. The movie ends with a Bruce Springsteen song he wrote for the movie. He won a Golden Globe for it and got snubbed for an Oscar. It's awesome and although the start of Kesha's first song is similar it is better. It's simple, heartbreaking and defiantly triumphant. But about two minutes in a chorus swells and the acoustic is covered by heavy synth because this isn't a Springsteen cover band. Throughout the album, Kesha channels Amy Winehouse, Florence Welch, Regina Spektor and even sings a duet with Dolly Parton. But there's never any mistake that you're listening to something entirely hers.
On the album's tenth song, "Boogie Feet," Kesha performs with the band The Eagles of Death Metal. There aren't a lot of details about the team up, but the band remembers her from attending all their concerts in Nashville where she grew up. After her legal battle with Luke, Kesha was left without a band or a recording team. When a psychotic record producer tries to ruin your career, teaming up with childhood idols to record some songs might be the perfect response. When she sings "don't let those losers take your magic baby" the lyrics echo with the love and respect that unite us beyond legal minutiae and abusive bullies. If that seems dramatic let me know. I'll turn up the volume.
Another group who contributed to the album is listed as The Dap-Kings Horns. I was unfamiliar with them before this album but will be looking up more of their work for future listening. When you hear them on the empowering battle cry "Woman" I think you'll understand why. The album is loaded with layers of appeal across a broad spectrum of tastes. Three of the songs are country/bluegrass, a direct callback to Kesha's Nashville roots. They're outside my usual listening tastes and in other circumstances I'd reach straight for the skip button. However, on an album loaded with themes of rebirth, leaving your comfort zone and not caring about what anyone else says or thinks, I felt compelled to keep listening. They're very good.
"Praying" is the unofficial centerpiece of the album. It tells the story of the last few years of the singer's life, stopping just short of naming names, but that's not what it's about. It's about the strength to overcome that story. The proof of that virtue is the album you're listening too.
Finally, there's the title track, "Rainbow." It was written sitting on the floor of a rehab center, composed with a toy piano and, according to Kesha, "It was a promise to myself." If I write too much about it I'll want to listen to it. If I listen to it I'll get too choked up to finish this article. So let me simply say, it is very good, and I hope you give it a listen. It's the kind of music that can make you "fall back in love with being alive."