"A Simple Favor" isn't as simple as it seems
"A Simple Favor" combines wit, humor and suspense with an exciting plot which includes two strong female leads. It is based on a novel by Darcey Bell, directed by Paul Feig and based on a screenplay by Jessica Sharzar.
Feig is known for directing movies like "Bridesmaids," "The Heat" and the "Ghostbusters" remake. It stars Blake Lively, who is probably best recognized for her role as Serena van der Woodson on the CW series "Gossip Girl". The other female lead is Anna Kendrick who is known for her breakout role in the "Pitch Perfect" trilogy. The movie also stars Henry Golding, who also recently played the lead in "Crazy Rich Asians."
The plot of the movie revolves around Emily Nelson (Lively), a glamorous and larger-than-life public relations director for a large fashion company. Nelson befriends fellow mom Stephanie Smothers (Kendrick) who runs her own online vlog about motherhood, crafts and recipes. Nelson's life looks perfect from the outside, but when Smothers gets an inside glimpse, nothing is as it seems.
Behind the glamorous career, the handsome husband, the big house and fancy cars, Nelson hides a shocking secret. Days after befriending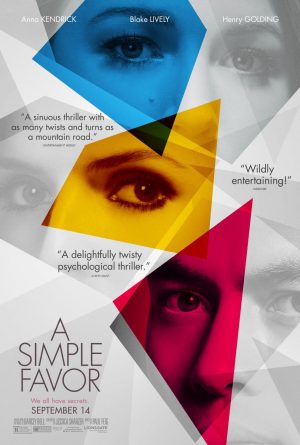 Smothers, Nelson suddenly disappears. When Smothers tries to find out more information about her missing friend, she realizes she has bargained for more than she could imagine.
This movie kept me on the edge of my seat through its entirety. Every time I thought I had figured out the plot, there was another twist. It was like peeling an onion; the movie had so many layers, but it was engaging and kept the audience guessing up until the very last minute.
Lively and Kendrick's characters were extremely interesting because they reflected different types of women and powerful female dynamics. Kendrick's character was an eccentric single mother and a widow who owned her own online business.
Lively's character was an unapologetic, strong female who was the breadwinner of her family and defied traditional gender roles. It was refreshing to see two female leads that weren't fighting over a man or love but are battling their own demons and trying to make a better life for their children by any means necessary.
This movie was not quite a thriller and not quite a comedy. If there was a genre to categorize "A Simple Favor," it would be a comedic thriller. The comedy was sarcastic and dry and a welcome break from the usual brand of comedy which depends on making fun of others. Even in moments of suspense, action or uncertainty there was a strong sense of humor.
This is a unique thriller because it displayed different types of parenting styles, a diverse cast, an interracial couple and defied almost every stereotype.
Overall, this movie is 5 out of 5 stars. It is the type of movie that will make audiences laugh, gasp and keep them anticipating the next move. It includes adult themes and strong explicit language and is not suitable for anyone under 13. It is rated R. It runs 1 hour and 57 minutes.