Valentine's Day in a pandemic
How to celebrate Valentine's Day from home during the pandemic.
With the ongoing pandemic, many will be spending Valentine's Day at home. Whether that means celebrating alone, with friends, or with a significant other, there are a few different ways to make the holiday special while staying safe.
One popular way is a movie night at home. If you are celebrating virtually, NetflixParty.com is a free website where you can watch TV and movies with your friends. According to its website, Netflix Party "synchronizes video playback and adds group chat to Netflix, Disney+, Hulu and HBO." This is the perfect way to adapt your movie night to fit COVID guidelines.
Since various streaming services provide subscribers with endless movie options, stop scrolling and select from a few of these for a perfect Valentine's night in!
"A Walk to Remember"
This 2002 romantic drama stars Mandy Moore as Jamie Sullivan and Shane West as Landon Carter. Based on Nicholas Sparks' best-selling novel, the film follows the relationship built between two high school teens from extremely different backgrounds. Much to the dismay of Landon's friends and Jamie's father, the two develop a deep connection. But how will they cope when a gut-wrenching secret comes to light?
"How to Lose a Guy in 10 Days"
Benjamin Barry, played by Mathew McConaughey, is a successful advertising executive. In an attempt to secure a major account, he makes a deal with his competitors that he can get any woman to fall in love with him in just 10 days. However, they choose journalist Andie Anderson, played by Kate Hudson, who they know is writing a story on how to lose a guy in 10 days. Benjamin and Andie both go to extreme measures to complete their objectives in this hilarious 2003 film.
"Valentine's Day"
From hopeless romantics to love cynics and everyone in between, this movie shows how various people from different walks of life celebrate Valentine's Day. The pressure to have the perfect day will break some couples and make others. Who will survive one of the most intense holidays of the year?
This holiday is nothing without chocolate and candy! Here is a recipe for a cheap treat that's easy enough for anyone to make.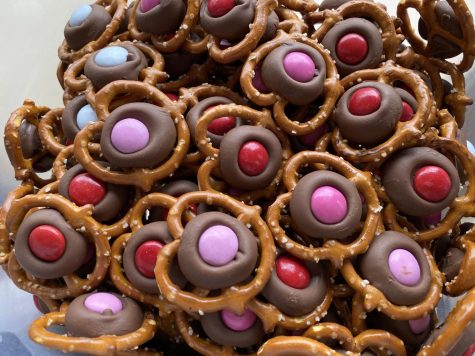 M&M Pretzel Kisses
INGREDIENTS:
One 16 oz bag of mini pretzels
One 12 oz bag of Hershey's Kisses
One 10 oz bag of Valentine's Day M&M's
INSTRUCTIONS
Preheat oven to 200°F Line a baking sheet with parchment paper.
Lay pretzels flat on the baking sheet. Place an unwrapped Hershey's Kiss on top of each individual pretzel. Bake for five minutes, until chocolate looks to be shiny and slight soft. The Kisses will not lose their shape. They will not melt, just get soft.
Remove baking sheet from the oven and immediately press one M&M into the center of each Kiss. The chocolate will spread across the pretzel.
Let cool until the chocolate is no longer soft to the touch. This takes about 1 hour.
Eat and enjoy! Store in an airtight container at room temperature.