Parkville Coffee: An Essential Piece of Parkville Culture
Coffee is surrounded by history, stories and all types of warm memories and adventures. Coffee brings people together and creates a community of invitation and comfort, and that is what Parkville Coffee does well.
Parkville Coffee started in 2011 and in a historic downtown Parkville building that was built in 1853. Since then, the shop has grown so much, becoming very popular in the Parkville community.
The owner of Parkville Coffee, Kristin Helling, bought the shop from the previous owner in 2017 after being a barista there for five years. The previous owner had worked for Starbucks and traveled around the western coast opening new shops and training employees. After seven years of this, he found downtown Parkville and decided to open his own coffee shop.
"He was kind of like super smart at finding locations that would be successful," Helling said. "He opened the shop, ran it through until it was stable, and then sold it to me."
Coffee shops welcome the community in to not only grab their favorite drinks, but also have an inviting environment.
"We like to think of ourselves as the town watering hole. People can ask us anything and we know the answer because we see everything happening downtown and we keep up to date on different things going on around us," expressed Helling.
She always has loved the origin of coffee houses and how people would meet to accomplish things.
"Back in the day, it was really like a cultural and political place of meeting and lots of cool stuff happened and started in coffee houses," Helling said. "When you're inside it you just feel like you're part of something bigger."
A big portion of the Parkville community involves Park University. Parkville Coffee has interacted with the university in different ways, including hiring a Park student to help out with Parkville Coffee's social media.
Helling wanted to reach out to the university first before putting it out to the public, as she is a Park alumna. Parkville Coffee also works with Park's student life department to put on study nights around finals time, where students can get a free drink and a cookie.
Parkville Coffee not only interacts with the Parkville community, but also with Kansas City communities by buying local. Their printing company is local, as well as ingredients and their pastry squares.
"I really, really try to be like approachable and an ally to all the other businesses on Main Street," Helling said. "I think that the only way we can succeed is by lifting each other up and by supporting each other and not looking at each other as competition."
As for interacting with neighboring businesses, Parkville partners with them to do promos and invite more customers into each one of their shops. Customers have the option to have a little passport where they can get stamps for spending more than $10 in four businesses and this gives them a gift card to one of the downtown businesses in Parkville.
Parkville Coffee is unique in how it contributes to its local community, but it is also unique in how they support individuals, the atmosphere in the shop itself, as well how they do things differently than other coffee shops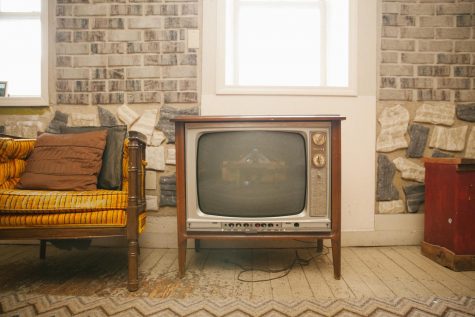 Parkville Coffee will sell artwork and books from local creators on consignment, meaning the shop will get a percentage of profit for housing those items. They will also hold open houses or a gallery opening for free for those artists and authors to display their work.
Another aspect that sets Parkville Coffee apart is its unique design and decorations. Helling explains that the upstairs floor of the coffee shop is modeled off a living room in the '70s.
This room has vibrant colors and furniture, even a tube TV and corded telephone. In one corner, there are Boeing airplane seats with a mural painted around them by an artist that worked at the shop. People can walk upstairs and have the luxury of hanging out, playing games, looking at artwork, or pulling a book from their book nook to read.
One of the biggest and most unique aspects that Parkville Coffee prides itself on is that it is woman-owned.
Helling speaks to this, stating that, "The coffee industry is very male dominant and there was only a few other people that I know in the Kansas City area that are women that are actually in like top positions at shops."
Another unique thing about Parkville Coffee is how it roasts its coffee.
"Our machine was built in 1985 and it's a vintage drum roaster and it's completely manual. A lot of the other roasters in Kansas City use automatic machines or semi-automatic," Helling said.
This manual model adds time and difficulty, but also provides a unique experience for Parkville Coffee patrons, something that has been a trying effort in the pandemic. Although the business had to close off dine-in options for their customers, they remain committed to providing a unique and quality product.
To do this they have relied on the use of online orders, committing early on to keeping everyone safe, and now allowing customers to come into the lobby to order their beverages as the county permits.
Helling said the shop will continue to be inviting and will continue to support individuals and the community as the world fights through this pandemic.