When passion influences culture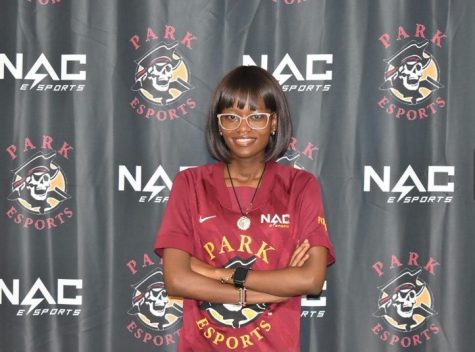 Coming from Kenya, where video-gaming is seen as a waste of time, Yvette Karanja, a junior majoring in computer science with a concentration in cybersecurity, was surprised when her dad endorsed her plans to join the esports team at Park University.
Karanja has been in the United States since December 2019 and first enrolled at Park in the spring 2020 semester. She decided to come to the United States to further her education and stay with her dad, who had been in the U.S. for years
Karanja said she has always been interested in technology and that led her to studying computer science.
"From watching so much crime shows, that made me want to go into cybersecurity too," Karanja said.
While Karanja has been playing video games since she was younger, she was surprised to learn about the esports team. A friend asked her to join the team after playing a game together. Then, she had her second introduction to the team when she was in a class with many of the team members, and the teacher had pointed out their gaming chairs.
Although Karanja was encouraged by friends to join the team, she had to tell her dad. She mentioned it to him jokingly and was surprised by his endorsement.
In spring 2021, Karanja joined the esports team with her dad's support to network, meet people and make friends.
"And then everyday he tells me 'See you now talk to people because you joined the team,'" Karanja recounted.
Her passion also contributed to the decision.
"I feel like I'm myself when I'm playing games, and that's how I am able to talk to many people because I don't talk to people as much but in game I get to talk to so many other people even other people from around the world because I know people from Canada, Mexico, from playing games with them online," she said.
To support her decision, her dad bought her a gaming PC to start practicing.
"I was like, this guy is serious; he is actually serious," Karanja said.
Her dad also gave her a space in the home to practice her gaming and would not disturb her whenever she was practicing.Joining the esports team has improved Karanja's social life. The esports team is a closely knit group of people. Karanja mentioned the impact with the former esports coach, Ashley Jones.
"Coach Jones is like a big sister to me to be honest. I still talk to her," she said.
She said the coach would check in on team members and help them de-stress. This is also something the new coach does, like taking walks with members of the team whenever they are stressed.
The team also utilizes study hours and keep themselves in check. There is a compulsory time to study and even if they are not in the same space, they can always tell when someone is not honoring that time through the Discord server.
They also go to lunch together. Karanja used to be anxious going to the cafeteria because of the crowd of people there.
"I remember the first day I went to the cafeteria. I froze, at the door, with them and I was like I'm not getting in here, it's too crowded, but now we all just go for cafe to eat," she said.
The team also celebrates birthdays together, and all of this helps them stay connected.
When Karanja told her family back in Kenya that she was on the team, they were surprised because they interpreted that as she was going to school to play video games. They also thought she was learning to make the games since she's a computer science major.
"I'm not interested in making games," Karanja said. "They thought that I just went to esports because I'm a computer science student, and I want to make games."
She had to explain to them that she's getting a scholarship for playing esports. Now she has the family support and, "most of them actually follow my Twitch," she said.
A notable achievement for Karanja is being the captain of the team.
"It helped me learn more about leadership," Karanja said.
As a captain, Karanja ensures the team is in good spirits because there is a lot of stress associated with gaming. Karanja admits that video games are addictive, and she could stay on it all day but creating a balance is very important. She got a planner from her coach to plan her schedule.
Esports is also growing in Kenya as a result of the popularity of Kenyans and Africans joining the program. Karanja is currently connecting with someone from Kenya who is passionate about growing esports in Kenya. Karanja is also a part of an esports game in Nigeria as there is rising awareness about esports there, too.
"If you really want to join the esports team, join because you will grow a lot," Karanja said. "I have met so many friends that I don't think I'll ever meet if I did not join this program."