Parking closures and construction
Robert W. Plaster Free Enterprise Center construction began on November 11 and will last until fall 2021
On Oct. 25 Park University's Board of Trustees approved plans for the Robert W. Plaster Free Enterprise Center. This building will be home to the College of Management. Construction began along the east side of campus' NW Riverside Parkway entrance, the previous site of the Park House, on Monday, Nov. 11, according to a university-wide email. The groundbreaking ceremony will be on Friday, Dec. 6 at 1 p.m. Construction is predicted to last until fall 2021. The Plaster Center is set to open at this time.
With the beginning of the construction, parking spaces began to be sectioned off in Lot G and Lot F. Between the two parking lots 50 spaces will be lost to provide parking for Straub Construction's workers. According to Brian Bode, Park University's vice president of facilities, workers that don't find parking in Lot G or Lot F will be asked to take spaces in the back of Lot C, which is further east of the underground entrance.
On Tuesday, Nov. 5, Campus Safety employees drove around campus and counted empty parking spaces. According to their count, there were more than 400 open spaces at 8 a.m., 131 spaces open at 9 a.m., 78 spaces open at 10 a.m., no data collected for 11 a.m., 124 spaces at noon, 131 spaces at 1 p.m. and 207 spaces open at 2 p.m. This data set includes spaces in Lot G and F that are going to be unavailable during the construction. Campus Safety said that they did a follow up survey and found similar numbers on Thursday, Nov. 7.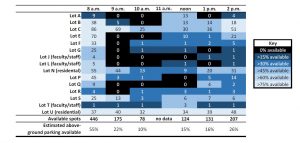 According to Nolan Cisper, the Plaster Center project manager from Straub Construction, there will be around 65 to 70 workers on site at any given time throughout the duration of the project. This means that on top of the 50 spots that will be taken in Lots G and F, there could be upward of 20 spots taken from Lot C.
This leaves an eight parking-spot buffer at 10 a.m., according to Campus Safety's data and the predicted number of workers.
Trent Green, a senior business administration and marketing major, said he thinks Park is focusing on external looks rather than focusing on its current needs.
"I don't know the ins and outs of running a university, but it's pretty clear that faculty and students are very unhappy with, the number one thing being, parking," said Green.
"It comes down to efficiency and effectiveness," said Sara Bowlin, a junior organizational communication major with a minor in management.
Bowlin and Green both agreed it will be nice for the School of Management to have its own building, but both said they will have to suffer with parking, but not be able to reap any of the benefits of the building.
Green also said that he's not sure if this new building is an actual need for Park. He said that having business classes in Mackay Hall isn't a problem.
"I can tell you that for any business if you don't address the number one customer need, you're going to have complaints, and you're going to have issues," said Green. "It may look great to the big wigs on the education board for Missouri… but if your students don't want to come, and you lose students, you lose money. It's a domino effect that continues for years to come. If people keep saying 'parking really sucks at Park, the buildings are old, but they have a cool new building, but overall it's not a great experience, cool. I'm going to go down the street UMKC, I'm going to go down the street to William Jewel, I'm going to go to Mizzou. This isn't the only college in Missouri …'"
"People ask me all the time what I think of it here," said Bowlin. "And if they're going to ask me what I think of the campus I'm probably going to be honest and say… I know that the teachers and stuff are good, but I question staying here because I didn't feel like I had good access at the campus."
Bowlin and Green said accessibility for people with disabilities and people who get injured is a problem that isn't being addressed and can be worsened by the lack of parking near buildings.
Green acknowledged that parking is a hard problem to solve, however.
"There's a logistical barrier here. Because of all the buildings are already here, and we're on a hill, it's hard to put any parking close to the buildings," said Green.
In October, Bode had said Park was exploring renting parking spaces in a lot in downtown Parkville and shuttling students to campus. Now Bode says that plan has been set aside.
"We're not going to do it until we need it," said Bode. "But this year, in this term right now, we do not need to do it because we went out [on Nov. 5] and counted. We got lots of places for people to park."
Despite being shelved for now, Bode said the plans for a shuttle can be set into motion in one or two days' time.
"We will be well-prepared … mid-January when students come back, that if the problem has resurfaced, well we will re-engage and implement these other plans," said Bode.
In an email, Bode said construction started earlier than predicted because, "the earlier the start the less winter weather interrupts progress."
A university-wide email sent on Nov. 7 encouraged faculty and staff to make use of new parking spaces in the Commercial Underground. These spots will be in between the Academic Plaza and the Park Distance Learning Center and will be marked. In an email, Bode clarified that there will be 25 additional parking spaces for faculty and staff in this Commercial Underground location.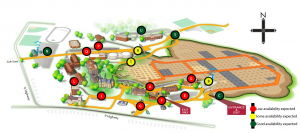 A parking garage is still out of the question for Park. According to Bode parking garages cost $20,000-$25,000 per spot. A small 100-spot parking garage would cost upward of $2.5 million.
"We have classrooms that have old furnishing," said Bode. "We have classrooms that need better heating and air-conditioning. We have dorms that need better heating and air-conditioning. If we have funds to do something additional, I can think of a multitude of projects that are more important than building a parking garage."
The construction of the Plaster Center is a $12.1 million project. According to Bode, half of the money will be from donations and the other half will either come from money in Park's investment accounts that are controlled by the Board of Trustees or from bonds that may be approved by the City of Parkville. These bonds may total up to $8.5 million.
The Plaster Center is going to be similar to the Norrington Center in the way that the outside is limestone and brick, to match the other historic buildings on campus, but have a modern interior, according to Bode.
"The Finance Lab will be, perhaps, the most high-technology room on campus. It will have the latest and the best financial software," said Bode.
The exact technology that is going to be added to the Plaster Center will be determined closer to the opening of the building to ensure the technology is the most up-to-date it can be.
The classrooms will also be high-tech and there will be collaboration areas, similar to the three study rooms on the first floor of the Norrington Center. There will be a commons area to cater to commuter students. The Plaster Center will also house a new location for the Warrior Center. This new location is predicted to be three times the size of the current Warrior Center, according to Bode.
While the building is under construction, Bode advised that commuter students should give themselves 15 more minutes to find parking than they have before.
"Understand that construction projects, no matter where they happen, impact the people who are around them," said Bode.
Bode said he again invites students, staff and faculty that have complaints or issues to contact him by phone at 816-584-6248 or by email at [email protected]