Virtual town hall meeting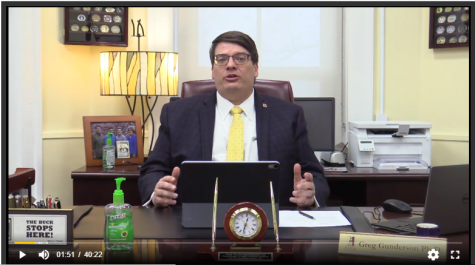 On April 16, Park University President Greg Gunderson, Ph.D., held a virtual town hall meeting via Stretch Live to update students on the university's response to COVID-19.
Park University's campus will remain closed for the summer, offering classes only online. Dr. Gunderson encouraged students to take classes online this summer for a variety of reasons.
"There will be new courses, new subjects that are being offered, and I'd like you to talk to your faculty and advisors about those," said Dr. Gunderson.
Some new courses will relate to COVID-19, and some are programs that were selected with an online environment in mind.
According to the Provost Michelle Myers, Ed.D., a pass or fail option may be offered for courses, but details will be determined next week.
According to Dr. Gunderson, Park University was allocated an estimate of $1.4 million for emergency grants for students. It is unknown when Park University will receive the funds, but students will be notified with the Emergency Broadcast System and email when they are able to apply.
Dr. Gunderson said that by the time the money arrives, the university intends to have in place a strategy by which students can apply for emergency grants.
"We'll probably allow about five days for people to submit their requests, so it will be a narrow window of time to receive those requests," said Dr. Gunderson, "but my intent and the intent of this university is to distribute those funds promptly to the people who need it the most, and that's you."
Dr. Gunderson also mentioned that students will not lose their scholarships for any reason other than not meeting the scholarship requirements.
"For those of you who are athletes and your sport was cancelled, you had no control over that," said Dr. Gunderson, "so you will continue to receive your scholarship as an athlete at this institution."
Students who moved off of campus will receive a credit to their account that can be used when they return, and those who will be graduating will be given a refund.
The Pirate Pantry will still be open, and requests for goods may be submitted online. Events will still be held online for students. Job placement individuals will still be working to help students find jobs, and the Academic Success Center continues to provide virtual tutoring for all students.