The Navigator now accepting student submissions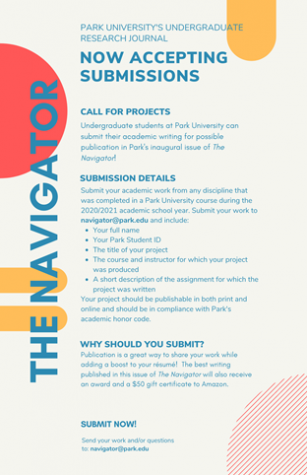 Park University's undergraduate research journal, The Navigator, is accepting student submissions now through May 15 for its first publication.
The Navigator aims to celebrate the writing that students are producing in their classes. Any undergraduate student at Park can submit their academic writing for potential publication, including research oriented papers written for any course during the 2020-2021 school year.
Brandi Handley, English lecturer, assistant director of ParkWrites and editor of The Navigator, encourages students in any discipline to submit their writing.
"It's really important to us that we get a wide variety of writing," Handley said. "We don't want all English essays."
Amy Mecklenburg-Faenger, Ph.D., associate professor of English and director of ParkWrites, agreed and added that the journal "will provide a good perspective of the kinds of writing that happen across multiple disciplines; there's not just one kind of good writing."
The student with the best submission will win a certificate and a $50 Amazon gift card.
Submissions can be sent to [email protected]