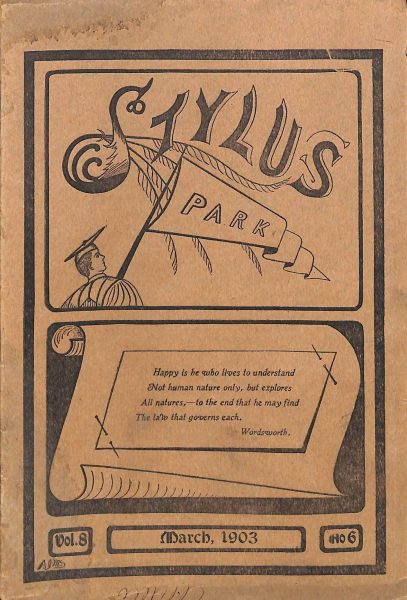 When I joined Park University as the adviser for The Stylus in 2022, one of the first things I told my students was just how fortunate they were.
In its first 127 years as the newspaper for Park University, The Stylus remained a printed publication. This was important, I told them, because across the country, universities were actively turning away from printed newspapers to instead begin focusing on digital news production. I let them know regularly that what I learned in my undergraduate newspaper room back in the '90s translated directly into practical skills I used daily in my career as a journalist.
I felt strongly that my students were incredibly fortunate to learn to write and design for a printed newspaper. And despite several hiccups that came from me being new to Park and the position, as well as having a small staff, I took great pride in what we produced.
However, things change. When you consider how much has changed within the first 127 years of The Stylus, journalism itself had to make massive strides in the past decade. In fact, I tell my media and journalism students regularly how much the media landscape has changed since I graduated in 1999.
Now, in its 128th year, The Stylus will take on the new challenge of going fully digital.
I am excited and optimistic about this change. I know I wasn't the only person who noticed the stacks of unread newspapers that remained largely untouched across campus. At some point, we had to face the reality that printed newspapers don't resonate with today's students.
As Park University focuses on training tomorrow's journalists, it was time to begin extending our reach into the digital market. That shift begins now.
Our digital focus will create numerous opportunities we are excited about. We'll be able to focus our efforts on connecting with all Park students, faculty, and staff, no matter where they are. We'll be able to engage with our alumni more than ever before. And we'll be moving the tradition of The Stylus into a place where we can be innovative and focus on growth outside of the Parkville campus alone.
We ask for your patience. Our staff is still small, and as we learn how to change our mindset and processes, it's going to take some time. There will be bumps. And our engagement may be slow at first. So, we also ask for your support as well.
Follow us on social media. Engage with our content. Share our stories. Send us ideas. You could even consider writing for The Stylus yourself.
And as our staff learns and grows and adapts to the changes in journalism, we ask that you keep watching. After all, we can't do what we do without an audience to share it with. We hope you'll be a part of our story.