Chaos, control and college: Tips for survival
Hang on for a minute...we're trying to find some more stories you might like.
Bring a backpack to class.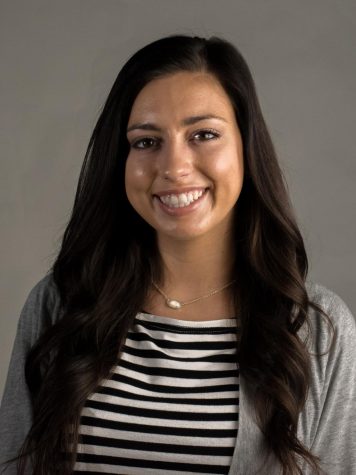 Or a satchel, or a purse or just a pen and some paper.
My first day at Park in August 2014, I woke up unsure of what I was doing. The first question that ran through my head was, "Oh my gosh, do I bring a backpack to class?"
I didn't know if big, bad college students carry backpacks, or if that's totally a high school move. I didn't know if you're supposed to pick out a favorite top and shoes for your first day of school, or if you live in sweatpants because college students roll out of bed and just go. What I did know was that I couldn't show up on my first day not knowing what I was doing.
So I grabbed my backpack, curled my hair and off I went.
Actually, I curled my hair everyday the entire first year. Yes, every single day.
I wanted to reinvent myself. I thought if I did my hair everyday I would be a new person. I think it made me feel better about myself. I always looked put together because I always did my hair; because I always looked put together, I felt put together; and because I felt put together, I actually was. Until I passed out in my health class.
Yep over half-way through my first year of college, everything was going well until we got to the dreaded chapter over child labor in health class. The next thing I know I'm on the floor with my head at the feet of one of the basketball players. The girl who was supposed to be put together and perfect was lying on the floor in Science Hall and carried away in an ambulance. Oh, the fire department was there, too.
While I was humiliated, what I learned was that nobody cares more than yourself. Well, the people in my class cared because they got out of class early, but what I mean is; the next day everyone had forgotten. Which meant nobody cared that I was waking up an hour and a half early everyday to curl my hair.
So I stopped.
I stopped trying to be put together. After I got a D on my first Oceanography test – yes, I took Oceanography because I thought it'd be easier than biology, but it turns out there's a lot of stuff in the ocean. I learned that I'm not always going to be put together. And that's okay.
So, if you're a worried freshman or sophomore, or even a junior or senior, and you haven't realized this yet, I encourage you to take a step back and think about what causes you the most stress and anxiety and make a list of ways to let it go. Instead of getting up early to do my hair I started getting up to study and do homework. I learned that I work better in the morning, and it was the best thing I figured out for myself. I enjoyed getting up at six or seven in the morning, going to Parkville Coffee and being productive. This is what really made me put together and successful. This doesn't mean I never had all-nighters and all my problems were solved, but I found my zen.
When I started college, I thought that I could do and be anything I wanted. And for the most part that was true, but I didn't have as much control as I thought.
My freshman year I was so excited to make the University's Spirit Squad. Yes, once upon a time Park had cheerleaders. My teammates were my new best friends, and I was going out on the weekends and experiencing new things. Just when I thought I had my new normal, the Spirit Squad was discontinued. I tried so hard to fight for it. So hard that we even made pompoms out of trash bags, but hey, no one noticed. While we put in a strong effort to keep the team alive there was nothing we could do.
Until I decided to start something new of my own. With the help and support of many Park University staff members, the Crimson Dancers were born. I begged students to join my club and somehow I managed to get at least five people to agree. The first year was rocky, but we powered through and now the team has tripled in size. I got involved in other ways, too. I joined the Student Activities Board, became a first year experience mentor and a student ambassador. The point is that I didn't let one thing that was out of my control stop me from taking control. I took the door that closed, and I opened three more.
So can you.
If you're a first-time freshman and freaking out that you don't have it all figured out, I want you to take a deep breath. It is okay. What fun would it be if college was predictable? If you've been doing this for awhile and still can't figure out what's missing, or can't find your zen, I want you to grab your pen and paper and start a list. Make a list of things you've always wanted to do in college. Then go after it, if it doesn't exist then make it exist. It's not impossible. When it gets tough, DO NOT GIVE UP. If everyone gave up on the first challenge they faced where would we be? Persevere!
I want you to also make a list of new study spots. Tryout a new coffee shop, find your special spot on campus, or even create a space in your dorm room. Spend a week trying to find your perfect spot, and I think you'll be surprised with the outcome.
College is here, and you've got this! Take control, and hang
on tight for the ride.