Immigration Teach-In at Park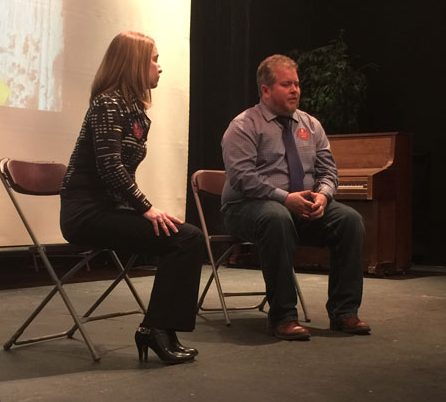 Hang on for a minute...we're trying to find some more stories you might like.
On Thursday, February 2, from 3-5 p.m. "Solidarity with Immigrants: A Park University teach-in" took place in Alumni Hall. The goal of the teach-in was to address the executive order banning immigrants from seven countries as well as inclusion, generally. The event also educated students on being mindful and tolerant of immigrants.
The teach-in was sponsored by the Park University Faculty Senate, The Center for Excellence in Teaching and Learning and the faculty for internationalization. There were six speakers, each of them knowledgeable in their subject area.
The program started at 3 p.m. with Adam Potthast, Ph.D., the Faculty Senate president, who presented introductions. After his speech, he read off the program.
At 3:05 p.m., Jeff Ehrlich, Ph.D., an associate professor in the College of Management, spoke about the history of inclusion at Park University.  He spoke of those who had a great impact on inspiring social changes at Park University.
At 3:25 p.m., Professor Steven Youngblood, director of the Center for Global Peace Journalism, discussed his visits with Syrian refugees in crowded tent cities, refugee camps and on the streets in Turkey, Lebanon and Jordan.
Youngblood discussed the lifestyle of refugees who flee their country to escape ISIS. He went on to talk about refugees suffering horrible discrimination, intense poverty and misrepresentation in the media.
"If we as a society are to debate the merits of excluding Syrians and others," Youngblood said, "I think we need to be informed about what exactly that exclusion means and what exactly the extent of the risk is."
During Youngblood's presentation he presented statistical data that showed the risk is infinitely small.  According to CNN you have a 0.00003 percent chance of dying in an attack from a foreign-born terrorist.
"If we still want to exclude these people and were to be logical about it," Youngblood said, "then we need to come up with a better rationale than simply 'these people are a risk' because statistically they are not."
Melanie Gurley Keeney, an immigration lawyer, gave information that faculty and students can use in regards to the entry ban executive order. Keeney gave a brief history on the ban and how it had changed in the week after it was signed. Keeney talked about whether the ban was legal. In response to a question, she advised international students at Park  to not leave the country.
At 4:05 p.m., Lora Cohn, Ph.D., assistant professor of communication, described the important steps to becoming an open-minded person and how to engage in a conversation with a person who has different views. Cohn categorized people into six different stages: denial, defense, minimization, acceptance and integration. She discussed the potential steps one could take to reach the integration stage.
"Having those extreme positions [rigidly conservative or rigidly liberal] shuts down our ability to see information that contradicts our perspective," said Cohn. "We don't see it; we don't listen."
Tamara Radohl-Sigley, Ph.D., assistant professor of social work, and  Potthast discussed how the ban affects social justice and human rights, as well as positive and ethical steps to take next. They defined human rights as rights someone has "simply by existing."
"Human rights are something philosophers, political scientists, diplomats and social workers have been working on for a long time," said Potthast. "We don't just stand for the rights that are afforded in one country. They're standards that we all aspire to."
Also emphasized in their presentation was the importance of social justice. Radohl-Sigley and Potthast also gave the audience a chance to share their thoughts on how integrate inclusion into our community.
"I think it's that suppression that causes that underlying anger," said Professor John Lofflin. "We need to let people have free speech in our classrooms."
At 4:45 p.m., Gail Hennessy, assistant professor of education, and Shannon Cuff, Ph.D., associate professor of literacy education, discussed children and young adult books that talk about refugee and immigrant experiences.
The immigration teach-in allowed many students and faculty to get answers about the travel ban. It also allowed the group to discuss potential strides to take towards inclusion in our community.