Park Women's Volleyball Team is Stepping into the Sand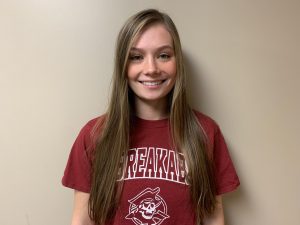 The Park University women's volleyball team is gearing up for its upcoming sand volleyball season. With this being only the second year of having a women's sand volleyball program, the team is hoping for a successful season.
Natalya Nalivaiko, sophomore outside hitter, had the opportunity to play in the team's first year. It was also her first year being on the regular volleyball team, so she has experienced both teams and the differences in each.
"It was the first year we had done it, and it was definitely a big process to try and get used to," said Nalivaiko. "It also takes some time to get used to the changes and differences that come with playing sand volleyball."
One of the big differences, Nalivaiko explained, was to be comfortable with getting a lot of touches on the ball. This is key since there are only two players on the court at a time. In indoor volleyball, the team plays six-on-six. In addition, the sand volleyball court size is smaller to be relative to the number of players on the court at a given time.
Another difference is that not every single player that was on the regular team is playing on the sand volleyball team. Nalivaiko said there are about 12 to 14 players on the sand team, while there were more than 20 players on the indoor volleyball team.
Chloe Satterfield is a freshman setter who spent her first season on the indoor team in fall 2019. She has not played sand volleyball before in a competitive space, so she is looking forward to seeing how this season goes.
The team had their first practice at Volleyball Beach in Martin City, Missouri, on Jan. 23.
"It was definitely an adjustment trying to move around in the sand rather than a court, but I think I like it," Satterfield said. "Balancing school while also traveling and practicing for sand volleyball will be the most difficult thing."
Even though she has to manage this balance, she is looking forward to the rest of the season with her team.
"I don't know what to expect entirely," she said. "I do think it will be a lot of fun and a good way to bond with the team."
The women's sand volleyball team has their first tournament Feb. 21-22, at the University of Nebraska-Lincoln.