Park women's volleyball remains undefeated
The Park women's volleyball team, the No. 1 nationally ranked team in the country, started its spring season with a win against Ottawa University on Thursday, Feb. 4.
The Pirates played four sets winning the first one easily with a score of 25-14. In the second, Ottawa came back and won 25-20. However, the Pirates persevered, winning the last two sets with 25-22 in the third set and a score of 30-28 in the last set.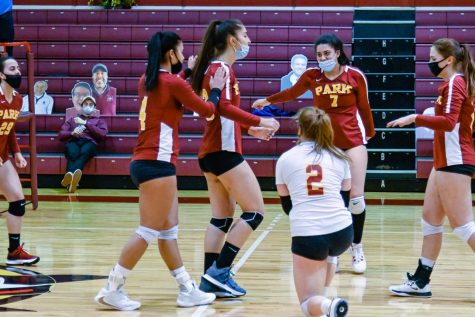 Park had 62 kills and 83 digs compared to the Brave's 38 kills and 64 digs. However, the Pirates had 34 attack errors and 11 service errors.
Twin sisters Nada and Noura Meawad led the team in both kills and digs. Nada Meawad, a senior outside hitter, had 15 kills and 21 digs throughout the game. Noura Meawad, a senior opposite hitter, had 17 kills and 17 digs against Ottawa. She also had four service aces out of the team's overall 12 aces.
Amanda Mendes, senior setter, controlled the offense for team with 47 total assists throughout the match.
There were also two players on the court for the first time as Pirates in the match: Debora Bernardi and Barbara Almeida. Freshman outside hitter Bernardi made her mark with 14 kills and 10 digs. Sophomore middle blocker Almeida had 11 kills and three blocks.
This win improved the Pirates undefeated record to 15-0 for the 2020-21 season.
The Pirates' next game is at 7 p.m. on Feb. 18 against McPherson College in Breckon Sports Center. It will be streamed live by Park Athletics on the Stretch Internet Portal.