Park's first White Coat Ceremony celebrates nursing students
Park University held its inaugural white coat ceremony on Aug. 20 in the Graham Tyler Memorial Chapel. This ceremony is a rite of passage emphasizing the importance of companionate patient care at the beginning of nursing school.
"The White Coat Ceremony is intended for first-year nursing students to be introduced into the profession of nursing," said Department of Nursing Chair Summer Masters, Ph.D. "To expand on the ideas of professionalism, dignity and respect for patient care."
Executive Chief Administrative Officer of Truman Medical Center and Park University Board of Trustees member Mitzi Cardenas was the featured speaker at the ceremony. Cardenas spoke about the importance of being humane.
"We serve all who come seeking care, regardless of ability to pay," Cardenas said and mentioned it is Truman Medical Center's mission.
"Cardenas did a great job on tying her mission with the White Coat Ceremony," said Masters. "To just always deliver care with the highest respect regardless of socioeconomic background."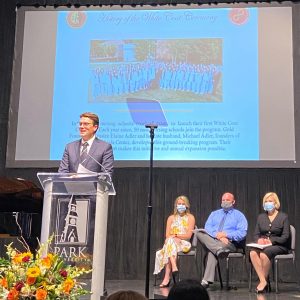 Other keynote speakers included Masters, Interim President Shane Smeed, and Dean of the College of Education and Health Professions, Timothy Hanrahan, Ph.D.
After the speakers, students were presented their white coats in front of an audience. They recited the Florence Nightingale pledge standing in the presence of their professors and family. Masters said, "It's an oath that you're taking to provide dignity, respect and compassion."
The event featured musical performances from sophomore music major Ilkhom Mukhiddinov on violin and graduate student in music Anastasia Vorotnaya on piano. A reception followed in the Academic Plaza.
The ceremony was made possible with a grant from the Arnold P. Gold Foundation.