Andrea K. Lee, Mid-Career Retrospective Exhibit
"In some ways, art was always there," says Park University Assistant Professor of Art Andrea K. Lee, as she reflects on the path she took as an artist. "I do remember thinking: I'm not sure what I want to do, but I really like art and so I'm going to take some art classes (in college). One thing led to another and then the next thing I know, I've got a PHD in art history."
Lee received a doctorate from the University of Missouri-Kansas City in addition to a Master of Arts in studio art and painting, also from UMKC, and a Bachelor of Fine Arts in sculpture from the University of Kansas. Among her plentiful professional accomplishments, Lee has received over 20 fellowships, and her work has been displayed in over 30 national and regional art exhibitions.
Her current exhibit, located in Campanella Gallery on the Parkville campus, is a mid-career retrospective that showcases pieces from her early career and post-undergrad work.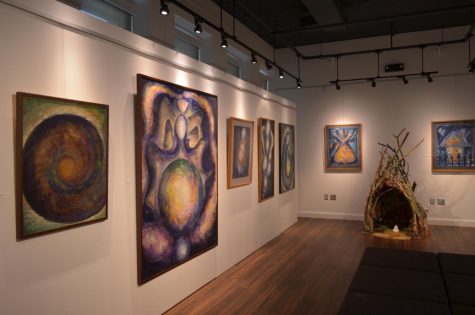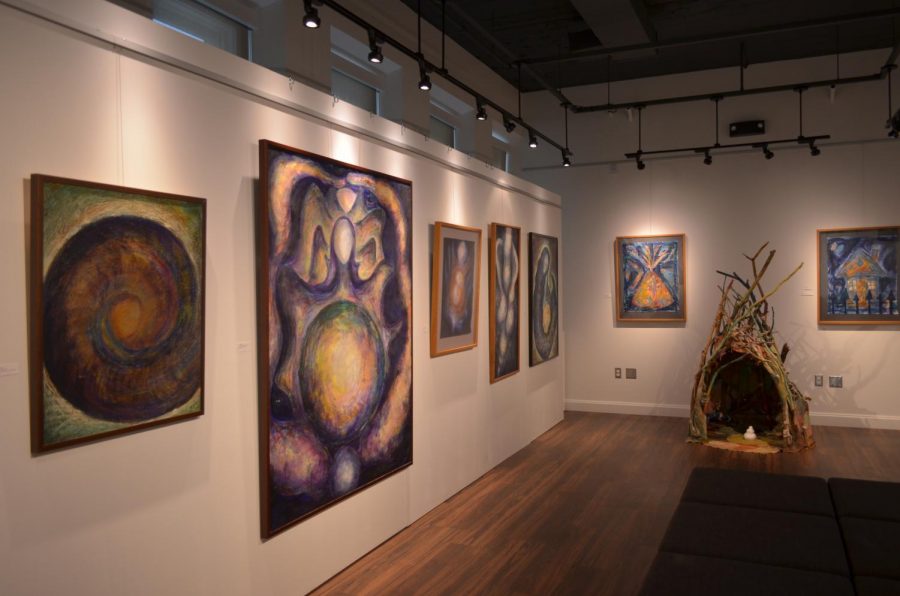 Additionally, as part of this mid-career retrospective exhibit, Lee has published a book titled "Tears of Transcendence." It features more than 120 original artworks spanning a 30-year period and includes essays from Lee. The title of the book and exhibit on display comes from Lee wanting to acknowledge the difficulties of life, but also how she remained resilient and persisted through those difficulties. The publication can be viewed as part of the exhibit.
"I used art as a method of transformation, and it was connected to ideas that I had at different times in my career. Things about healing and overcoming challenges in life," she says.
Lee describes herself as an intuitive creator. Her style tends to be more expressionistic and unplanned. All the work featured in the exhibit uses mixed mediums. Lee worked with wax, acrylic and spray paint to create the canvases on display.
"I didn't have very much money, so I was going through what you might call my starving artist years. Some of it was just practical," comments Lee on her choices of mediums. She recalls walking through the woods and being drawn toward certain pieces of wood and sticks. She had no use for them at the time but began collecting them in her studio, knowing they would be of value to her eventually.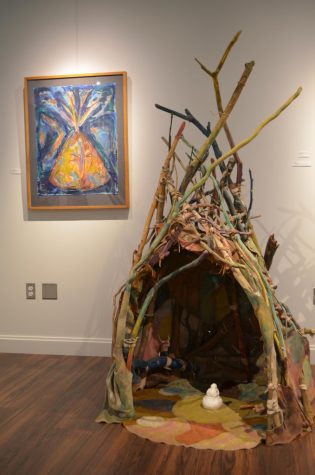 The two sculptures that can be seen in the gallery, "My Mother's Papoose" and "Hut Sculpture," are made from copper wire, hand-sewn leather with acrylic wash, wood, and ceramic. Lee's day job at the time was a leather worker. She made items like purses, belts and bags, and due to this experience, she developed the idea of sewing leather into her sculptures.
Although the two featured series, the Mother and Child Series and the House Series, are separately created, Lee says they are related in a way.
"The theme of home and nesting was really important to me at that time," says Lee. "I wanted to connect with and communicate these ideas of more archetypal mother and child or female or feminine form that was connected to something more universal."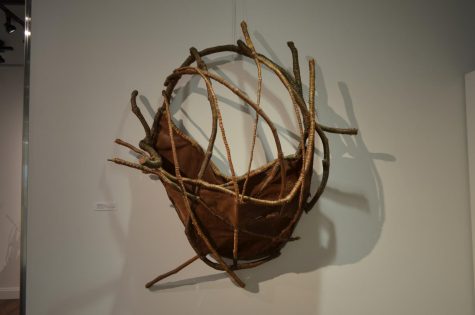 Lee notes that she enjoys when people interpret her work and find their own meaning and understanding of the artwork. Everyone translates expressionistic art differently, and she enjoys that side of creating.
Lee's exhibit closed out on Sept. 13, but students can view her work in "Tears of Transcendence" which is still available for perusing and checkout in Norrington Library. Students that wish to take the publication home should take the copy on display to the Information Desk where an Information Desk worker can provide the book for student checkout.