Park's men's and women's soccer kick off their seasons
Men's soccer began the season with a 3-0 home field win against Ottawa University on Sept. 11. Senior forward Mohamed Ndaliro came out with the first goal of the game, with a perfect set up by senior midfielder Rama Emeka Aniakor. The two scored again, leaving it 2-0 before half time. In the second half, senior midfielder Daniel Araya scored the final goal of the game.
The Pirates came out a few days later to collect a win over No. 1 ranked Missouri Valley College, pulling out a victory, 2-1, in overtime.
The next two games were not in favor of the Pirates. The men's team tied with Clark University in double overtime, and later on that week, had a loss of 3-0 against MidAmerica Nazarene University. However, Park then had a victory over Graceland University in double overtime for a 2-1 win.
The men's team stands at 3-1-1 for the season, but Park's women's soccer has had a tougher time.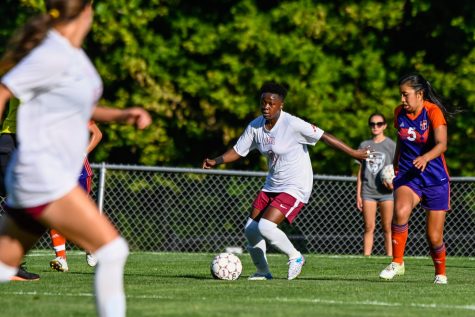 The Pirate's first game of the season, against William Woods University, was canceled. They played their second game against University of St. Mary, yet tied 1-1 in double overtime. Next came another canceled game, this time against Ottawa University.
Finally, on Sept. 14, the Pirates were able to continue their season with a match up against Missouri Valley College. However, the Vikings beat the Pirates, 4-1.
The next three games for the Pirates were not successful either. Clarke University won 3-0, MidAmerica Nazarene took the win 2-1, and Graceland University won 2-1 in double overtime against Park, leaving the Pirates with a record of 0-4-1 for the season.
Park's women's soccer hopes to turn things around on Julian Field. For the upcoming Homecoming weekend, the women's team will face Mount Mercy University on Saturday. Oct. 2 at noon. Park's men's soccer will play after, also facing Mount Mercy, at 2:30 p.m. The two teams hope to bring home two victories for the Homecoming weekend at Park.