$10.4 Million business building boasts new technology, collaboration spaces
"It's a unifying physical area that allows the community of business students and their alumni to have a place that they can mark as their own," said Kirby Brown, dean of the College of Management and School of Business at Park University.
Before the Robert W. Plaster Free Enterprise Center opened, business school faculty and students faced challenges because classrooms and faculty offices were spread out between at least four different buildings. Now, all the offices and classrooms for the business school are located in a central location, said Brown.
This central location unifies those who are involved with the school, including students, alumni, faculty and staff.
With this unification, some students report feeling a stronger connection to their school. Plus, this new building gives these students additional learning opportunities that they would not have had access to previously.
"Everything's brand new and up to date. There's a lot of different areas where you can sit and study or collaborate with other people," said Sophie Roper, a senior studying logistics and computer information systems.
These collaboration areas allow students to work together and stay in the building between classes, said Roper. The collaboration feature can also be seen in the classrooms. All of the furniture is mobile, so they can teach students in a lecture setting and then break the class into small groups for discussions. Then, they can set the classroom up so that all the class can work together.
In addition, the building offers new amenities, including a lactation room, an editing studio, up-to-date teaching tools and smartboards in classrooms. This allows professors to improve their teaching skills and adjust how they teach. They can utilize the studio to record their lessons for online students. In the classrooms, the computers have cameras so the professors can teach a face-to-face class and run a virtual Pirate Patch class at the same time, said Brown.
Brown said that they had gotten feedback from students through recent surveys that they liked the flexibility of online learning, but they missed the engagement of synchronous learning. The equipment chosen reflects that student need and feedback.
"I think that technology will be very important," said John Hamilton, chair of the criminal justice department and associate professor at Park. He said that he thinks that it will help to generate class discussion and make more teaching methods available for those professors.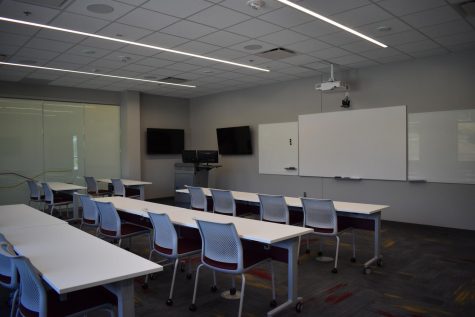 However, it is not just the business students who utilize the features of this new building. It is also the new home for the Global Warrior Center.
"Our ROTC students also use our facility," said retired Lt. Col. Gary Kerr, senior director of military and veteran affairs.
ROTC students can use conference rooms to run a meeting for their battalion, even if their battalion is spread out over five universities, said Kerr. These conference rooms are equipped with a camera and a monitor so that everyone in the online meeting can see each other.
Moving the Global Warrior Center to the new building also made Kerr feel supported by Park University.
"It shows me how invested Park is in our military and veteran communities," said Kerr. He thinks it sends the message that these communities are important to Park and hopes that it draws people to come to Park.
However, not everyone feels that the Plaster Center will help them succeed. "Every student deserves to have a learning space that's up to date, high tech, and in an environment where they feel like they can learn without distractions," said MacKenzie Coder, a senior majoring in multimedia journalism and public relations.
She takes a majority of her classes in Copley-Thaw Hall, which houses communication and journalism classes and faculty. There are many distractions within the building, including noisy air conditioners, and the building and technology within it are very dated, so she wishes that Park would update buildings for every program.
She thinks that there is also an important safety element that comes from updating buildings.
"The building, in general, and the structural integrity of it (the Plaster Center) just feels a lot safer than most of these older building, specifically Copley," said Coder. She also said that the elevators also seem a lot safer in the newer buildings.
Other members of the Park community that are not housed in the building see the value in Park opening a new building on campus.
"The important part of it to me is it shows progress for the university," said Hamilton. It also shows growth and commitment in a very visible form for the community which will be helpful, he said.
Both Hamilton and Coder have still found use in the building as a good place to work, even though it was not intended for them. Both plan to use it as a quiet place to go work or study.
"I probably will be studying in there and doing homework in that building from time to time because like I said, the facilities are a lot nicer," said Coder.
Park has been working toward opening this new building for several years. Construction started in 2019 and was completed before the fall 2021 semester started. This allowed students to utilize it for class and studies starting at that point.
Roper is happy that the building process stayed on schedule and was completed on time. She was told on her tour as a potential student visiting Park University that there was going to be a new business building completed on campus before she graduated. It was one of the driving reasons why she chose to attend Park she said.
"I'm mainly just glad that it finished before I graduated, so I actually got some use out of it," she said.