Degree in progress, experience gained, says international graduating students.
As the semester draws to an end, this means different things to students at the stages of their studies. Graduation is just at the corner for seniors. For international graduating students, the degree is not the only thing they will take with them. They've also gained the experience of studying abroad and learning the cultures of other countries.
Ozoda Narzullaeva, a senior computer science major from Uzbekistan, said her experience as an international student has been an interesting one. The International Students' Incorporation was a great contribution to her experience as she was able to attend different events organized by this group.
"Just the way I met so many different people from different countries because Park is so diverse, it gave me a broader perspective of how life is, not only in the U.S., not only in my country but also, I was able to hear from other students," Narzullaeva said.
For senior business major Keno Reynold, the shift from living with family to living alone was a challenge.
"I came straight from living with my parents in high school, so I had to learn how to manage my own money and stuff like that," said Reynold.
To be involved in the Park community, Narzullaeva prioritized joining clubs and organizations. She started by working on campus, learned about leadership positions and applied for them. This helped her learn skills like time management and goal setting which she still finds helpful and will continue to help her in whatever she does.
This is the same for Reynold.
"It wasn't that difficult to adapt. I lived at Chestnut, and Chestnut was full of other international students," he said.
Reynold was part of clubs and organizations to get more involved at Park, one of which was the Model United Nations Club where he had the chance to visit other states in the U.S.
As with many other international students, information systems and business analytics major Kennedy Mbuthi had mixed feelings about being in a new place, but this changed as soon as he started working with residence life as a graduate assistant.
Working with the director of residence life, Mbuthi said, "I remember her introducing me not only to the residence life team but also to people throughout the campus. Such a warm welcome made me feel comfortable and at home especially while working closely with the residents assistants, graduate assistants and RHC members and officials. Since then, I have looked at these people as family."
Being an international student, a memorable experience for Narzullaeva is meeting people from different parts of the world. She learned more about the traditions of other cultures and how some of them are similar to hers, which is something that fascinates Narzullaeva. Having learned about different cultures at Park, Narzullaeva feels motivated to travel and in the future, visit the countries of her friends.
Reynold also spoke about his experience with other international students. He enjoyed the opportunity to meet, connect and have conversations with students from different parts of the world.
"I have never experienced that anywhere else other than Park," said Reynold.
Mark Chunga, a graduate student majoring in information systems and business analytics also said being in an environment with a lot of people from different countries was a good experience for him.
"That environment has taught me a lot of things; like I know how different people react to things and how they relate to things, so it's been helpful to me," Chunga said.
Group projects are one of things Chunga likes as he gets to hear views from other people from different backgrounds and learn from them. Chunga said he could easily adjust to the community at Park because people were welcoming, and he was able to immerse himself in the community by joining organizations that are in line with his values.
With the graduation ceremony being face-to-face this semester after the spring 2021 ceremony was online, Narzullaeva is excited. She initially being concerned that it could be online like the previous year.
"I kind of told myself that even if it's online, we are not going to be upset because either way I'm graduating, and the main part is that I'm finishing up," Narzullaeva said.
Chunga is excited to be in the graduation gown, as well as to attend the sash ceremony, as he has watched people have it in the past and now, it is his turn to celebrate.
Reynold also showed his excitement for an in-person ceremony as he pushed his graduation to this semester because he didn't want a virtual graduation.
"Of course, I was worried that they're still going to do it the same (virtual) this semester but luckily they're actually having a real commencement ceremony," Reynold said.
Looking forward to post-graduation, Narzullaeva is excited for all the free time she will get after school as she will be working and using the free time to focus on other things in her life. She plans to stay in the Unites States and pursue optional practical training at her current workplace.
Being in the U.S. for four years without visiting his home country, Reynold is excited to go back home after his graduation. He has decided he will be taking a break from school and plans to find a job in Micronesia as a way of giving back for having his tuition paid, before furthering his education.
As Mbuthi rounds up his degree at Park University, he is excited to begin his career as a data analyst. He plans to work after graduation to gain real-life experience in his chosen field.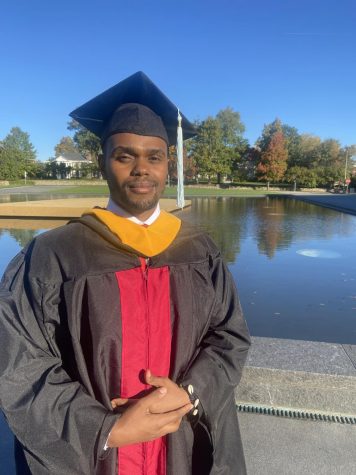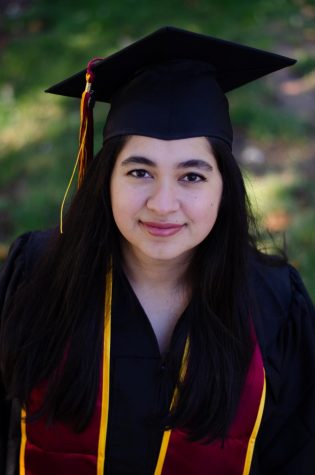 This year's commencement ceremony will be held in person on Saturday, Dec. 11 at 10 a.m. in the Community of Christ Auditorium in Independence, Missouri. Graduating students were able to reserve tickets for their family and friends, but the deadline was Oct. 24. More information can be found online at park.edu/commencement.