Park men's basketball turning a corner in conference play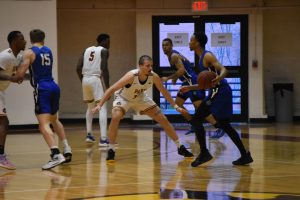 Starting the season with a 2-5 conference record, the Park University men's basketball team sat in last place of the South Division in the Heart of America Athletic Conference.
The Pirates have since had a change of luck with four straight wins since Jan. 17. The team jumped three spots and sit fourth in the division with a 6-5 conference record, 11-6 overall, as of Jan. 25.
Park's recent surge began with a 74-67 win on the road against Peru State. Then, they started a five-game homestand with an upset win over division-leading Evangel University by a final score of 88-62. The Pirates continued their home win streak against Culver-Stockton College 83-72 on Jan. 22 and an 84-80 come-from-behind win against divisional rival MidAmerica Nazarene University on Jan. 24.
For Park, it has been crucial to reach the 70-point threshold. They are 11-0 when scoring a minimum of 70 points this season and 0-5 when not reaching 70 points, in addition to a forfeit loss.
With a total of just 15 points from players coming off the bench over the past four games, the starters have been crucial to the team's success. Head coach Jason Kline, who concluded last season as NAIA's 13th winningest active men's basketball coach, is relying on the same starting five that started most of last season. That starting lineup includes four fifth-year seniors using their additional year of eligibility: Rodrigue Marthone, Quez Williamson, Cory Reeves and Ernest Myles III. The lineup is rounded out with sophomore forward Augusto Hausmann.
Leading the Pirates offensively with 18.1 points per game has been Marthone, a guard who scored 30 points in Park's win over Culver-Stockton. Reeves and Williamson have been Park's greatest threat from deep, shooting a combined 39 of 114 from beyond the arc.
Myles III has been dominant on the boards, averaging 10.1 rebounds per game, followed by 4.4 rebounds per game for both Marthone and Reeves. Myles III recorded his eighth double-double of the season in the win over MidAmerica Nazarene, grabbing 10 rebounds and a season-high 23 points.
"These last three years we've been playing together, so we trust in each other. It feels good to look over and be like 'this guy's got my back; he got my back down the stretch," Myles III told ParkAthletics.TV about the cast of leadership from the starting five, which overturned a 15-point deficit in their win against MidAmerica Nazarene.
Park's conference turnaround came after the Pirates honored longtime athletic director Claude English by naming the Breckon Sports Center court Claude English Court in a dedication ceremony held on Jan. 8.
The Pirates will finish their longest homestand of the season when they host Missouri Valley on Jan. 26 and Graceland on Jan. 29. The Pirates will need to keep the turnaround going to reach the NAIA National Tournament for a second straight season.