Park alumni land careers in professional indoor soccer
Park University's men's soccer program has produced more than a dozen professional soccer players over the past decade, although they are not playing the same type of soccer they played for most of their lives.
The soccer they have turned to is indoor soccer, a high-scoring and high-intensity game played on a smaller field and in the confinement of walls. The majority of the Park alumni who play professional indoor soccer have done so playing for the Kansas City Comets.
Among the first Park alumni to make the jump were Ramone Palmer and Robert Palmer, signing with the Comets in 2012. While unrelated, the Kingston, Jamaica, natives spent much of their lives together as they were born 12 days apart, attended the same schools and played on the same teams.
Their pro indoor soccer careers started when the Palmer duo met then Comets coach Vlatko Andonovski, another Park alumnus, at a soccer camp. They attended some of the team's kick arounds and began practicing with them.
"Before that, we had no idea about the Comets team," Ramone Palmer said. "Since we came to kick arounds, it's just been a blast and we decided to stick with it."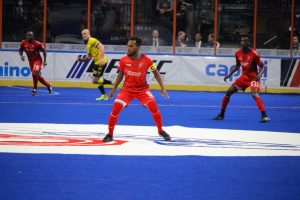 The Palmers spent their first eight years of pro indoor soccer playing together, spending seven years with the Comets and one year with the Tacoma Stars. They also tasted success, winning the Major Indoor Soccer League championship in their second season before going undefeated in the following regular season.
Ahead of the 2021 season, Robert Palmer signed to play with the Ontario Fury, where they delivered a crushing blow to the Comets by beating them in the semifinals. Although the team eventually lost to the San Diego Sockers in the championship series, Robert Palmer was named MASL Defender of the Year.
Following the footsteps of the Palmer duo, there have been numerous other Park soccer players go pro with the Comets.
"It's really good to see that after Robert and I, we had a lot more Park people gain an interest and get involved," Palmer said. "It's good to see that we brought more Park interest into the Comets organization."
Currently, there are four Park alumni playing for the Comets. Robert Palmer is still playing for the Fury, and Kiel Williams in his second season with the Florida Tropics.
Among the four Park alumni playing for the Comets is Ignacio 'Nacho' Flores, who played four years at Park. Originally signing with the Comets in 2016, the Chilean did not know about indoor soccer until he met some Comets players in a summer league during his time at Park. He decided to give indoor soccer a chance because it was a good opportunity to stay in the country and continue playing soccer.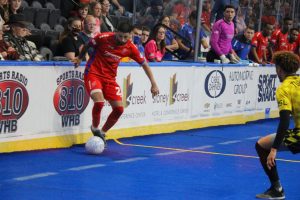 Flores has now played more than 100 games for the Comets and believes his indoor soccer success stems from his time at Park.
"The team and the level at that time was amazing," Flores said. "The competition level was great. Every training session was just amazing and the intensity was amazing. The fact that we were all working together to get that championship―that we actually got―made me a better player."
Even with that high-level training, the transition from soccer played outdoors to soccer played indoors is not as easy as it seems.
Mirko Sandivari is in his fifth season playing for the Comets after spending three years at Park. He explained that it takes time to adjust from outdoor to indoor soccer because it is so much different with indoor soccer because it requires more focus and energy when playing.
"The speed that we play is way faster," Sandivari said. "You have to get used to playing at that level. You have to go for one minute or two minutes and be 100 percent focused on the game because you don't want to make a mistake."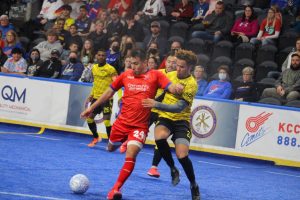 Among the greatest differences between outdoor soccer and indoor soccer is the time a player spends on the field. Traditionally, outdoor players play 90 minutes in a game with each team allotted three substitutions. In indoor, there is no substitution limit. The only player who plays the entire game is the goalkeeper, with field players usually playing many shifts under a couple of minutes.
The Comets' most recent signing from Park is Lucas Sousa, who is Park's all-time leader in assists with 42 from 2012 to 2015. He has also served as the assistant coach for the Park women's soccer team for six years.
For Sousa, the sacrifice of time and pain is worth it to be able to balance his duties as a coach and his duties as a professional athlete.
"Sometimes it's a little hard because the body hurts. But I do what I love, so when you do what you love, time doesn't matter," Sousa said.
A native of Sao Paulo, Brazil, Sousa was unable to play his first season in 2019-2020 due to visa issues. He resolved those issues and came back the following season and won MASL Rookie of the Year.
Sousa said his development at Park was critical to his success with the Comets.
"I feel like I tried to reach my peak at Park, and Efrem Shimlis is my dad in the United States," Sousa said. "He took care of us. I just absorb everything that he offered to us."
The praise for Shimlis, the head men's soccer coach at Park, was unanimous. Shimlis, also a graduate of Park, played professional indoor soccer before taking over as head coach of Park men's soccer in 2001. His experience and connections helped open doors for the Comets players from Park.
"Off the field, he shows a lot of interest in his players and makes sure his players are okay," Palmer said. "Him being there with us through college then guiding and motivating us to push us up to do as good as we can."
Stefan Stokic played one season at Park before pursuing his ambition of professional outdoor soccer. Eventually landing back in Kansas City to play more than 200 games for the Comets from 2010 until 2020, the Serbian understands the importance of Park's pro player pathway from Julian Field to Cable Dahmer Arena.
Joining the Comets coaching staff in 2020, Stokic still plans to finish his degree at Park. He has also coached youth soccer, winning the ECNL National Championship with his KC Athletics U15 girls' team last summer.
In his one season playing for Shimlis at Park in 2006, Stokic recorded five goals and five assists in 15 games. He still has great admiration for Park's winningest men's soccer coach in program history.
"Coach Efrem was a great coach, and he's a great person as well," Stokic said. "Every part of my life up to this point has led me to this point. Every situation. Park is a part of that as well."
The success of Park players in indoor soccer continues this season as they chase the MASL championship. The Comets sit first in the Central Division and third overall. Williams and the Tropics sit second in the league, while Palmer and the Fury sit sixth overall.