Study Abroad in Greece: Not as easy as you think
When I was in third grade, I read "Percy Jackson and the Olympians: The Lightning Thief" for the first time. After that, I was hooked on Greece; it became my dream to travel there one day.
That day ended up being Sept. 6. My dream is coming true, and I am living in Greece for the next four months as a study abroad student.
However, it wasn't exactly easy to get here.
I started looking into study abroad for the Spring 2022 semester in October 2021. Due to Covid-19 restrictions, I pushed back what semester I wanted to visit. I ended up applying for this semester, Fall 2022.
Then came all the forms. There were many to fill out for both Park University's Study Abroad Office and for my host school, The American College of Greece (ACG). Some were simple, but others tested my patience. One of those was the course approval form, which ensured I would be taking classes that Park would accept. In the beginning, it felt like no one knew who I needed to get my classes approved by and each person I spoke to would send me to someone else. Finally, one of my professors noted that as chair of his department, he had to approve courses, so I probably needed to go the chair of my department. With this information, I was able to pick courses and get them approved.
I also had to get a student visa for Greece, which was another very difficult process. I ended up needing a lot of documentation, some of which weren't listed on the Consulate website or on the list ACG sent me. After collecting all the documents I thought I needed, it was time for the 6-hour drive to Chicago. I ended up being able to get my visa that day, but only after going to the store and printing out additional information.
Finally, all the forms were done, and it was time to pack. After several days of working on it and a lot of stressing, I packed up a checked bag, a carry-on, and a backpack with four months of supplies.
My parents then took me to the airport. After a tearful goodbye (with most of the tears being mine), I was ready for my 14-hour travel day.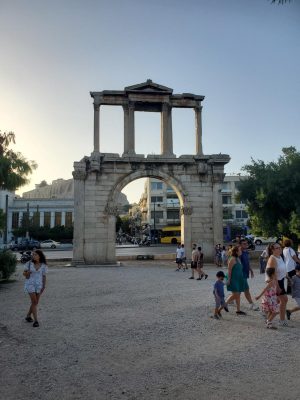 I made it safely and although it was never and still is not easy, Greece is beautiful and everyone I've met has been amazing. Now, it's time to explore and make new friends and new memories.