One month in Greece: a whirlwind experience
I have now been in Greece for about a month, and it has been one non-stop train of craziness.
Classes started up 3 weeks ago, but it feels nothing like classes at Park University. I want to explore everything and everywhere, which doesn't always go well with focusing on classwork.
My host school has put on several excursions for us, and I've also been able to go on several day trips with my friends.
Before classes started, the school took us to Downtown Athens where we explored different monuments, historic neighborhoods, and had an authentic Greek dinner.
Then, the next day, I took a ferry with some friends to the beautiful island of Hydra. The water was so clear and blue, and we sat on a rock beach overlooking the ocean for most of the morning. In the afternoon, we explored the island and found a rooftop garden that overlooked the entire port.
On this island, there are no vehicles. The only way to get around is by donkeys or walking. It was a nice change from the busy streets of Athens.
After surviving the first week of classes, I had a more relaxing weekend of exploring the neighborhood where my school is and Downtown Athens with friends. I was able to go shopping, enjoy dining out, and get plenty of steps in from walking so much.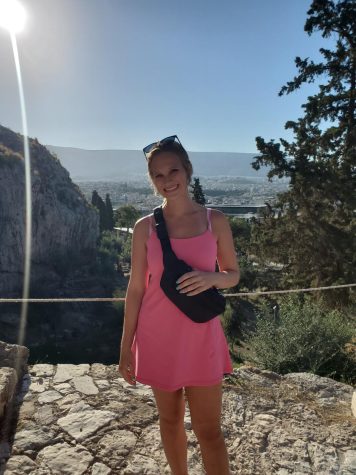 For my third weekend in Athens, I got brunch with a friend. From my short time here, I've found that the coffee, especially freddo cappuccinos are amazing. The cinnamon rolls are also ginormous and delicious.
The next day, the school hosted another excursion. This one was to the island of Aegina. At Aegina, we visited the temple of Athena Aphaia and learned about the history of the island. Then, we stopped for lunch, were able to swim in the island's ocean, and look out over the ocean at the far-off mountains. We then went into the town's square where there were many shops to explore.
This island is known for hosting the first capital of the nation after Greece became an independent country. It is also known for the pistachios grown on the island, which are used to make all kinds of pistachio goodies. I was able to try all kinds of pistachio flavored things including ice cream, caramels, chocolate rolls stuffed with cream, and granola bars. I highly recommend going here if you like free samples and pistachios.
This most recent weekend I returned to Downtown Athens with my roommates. First, we went to the National Museum of Contemporary Art. The current exhibitions were highly focused on political pieces and the uniqueness of different cultures. Next, we went to a haunted house and explored an area by a café called "Little Kook" that was already full of Halloween decorations.
The next day, I took the long trek to the area of Vouliagmeni, which as I found out the hard way is 3 hours from the dorms when using public transport because the Greek system is rarely on time. However, after getting there, I was able to see the beautiful Lake Vouliagmeni. This lake is at the bottom of some cliffs. Swimming here felt so refreshing and there were little fish who would come up and nibble on those standing or sitting in the lake like it was a spa treatment.
During the week, I keep busy with classes, spend time with my friends and continuously plan out my future weekends. Sometimes, it still feels odd and lonely to be so far from home. It feels like no time has passed since I arrived, but simultaneously it feels like months have gone by. I'm still waiting for this trip to stop feeling like vacation, but I'm not sure that it ever will. I think I'm too excited for my future plans.