Beach volleyball second trip to Fla.
The Park University No. 5 nationally ranked women's beach volleyball program ended their second straight appearance in the NAIA National Invitational Tournament in Panama City Beach, Fla., on April 21 in an upset against No. 6 Webber International University (Fla.) in the First Round, 3-1.
The Pirates beach volleyball program may be young but has shown their talent these past two seasons. In addition, Park is also the only school in the entire NAIA that has had all three volleyball programs in bracket play at the final NAIA tournaments for two straight years.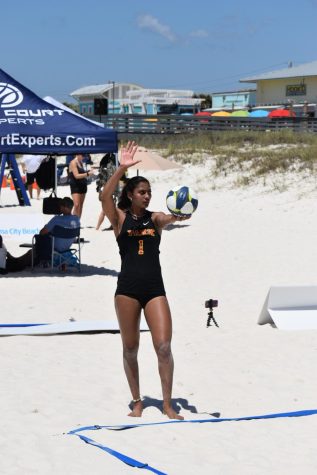 During pool play, Park went 1-1. The Pirates won against No. 4 OUAZ (Ariz.), but lost to No. 1 Westcliff (Calif.).
Then, began the single-elimination bracket play portion began.
In the opening round match, Park lost to Webber, 3-1, ending the Pirates' great season with a 17-3 record.
Each pair ended in 2-0 sweeps. Park's fifth position pair of Mafalda Bras and Laura Danezzi provided the Pirates lone victory against the Warriors. Park's fourth position pair of Maria Ramos and Patricia Ubeda did not compete as WIU had locked up the overall victory.
Their road during the past two tournaments has been identical, beginning with a loss to Westcliff, a win against OUAZ, and finally a First Round loss to Webber.
For Debora Bernardi and Giovanna Bello, they ended their season 12-5. Jullia Alvarez and Szonja Stollar finished 14-6. Melissa Knaut and Carla Pons Sales finished 16-4. Ubeda and Ramos ended with a record of 15-4. Danezzi and Bras finished the season 15-4.