Soccer teams weather midseason losing streaks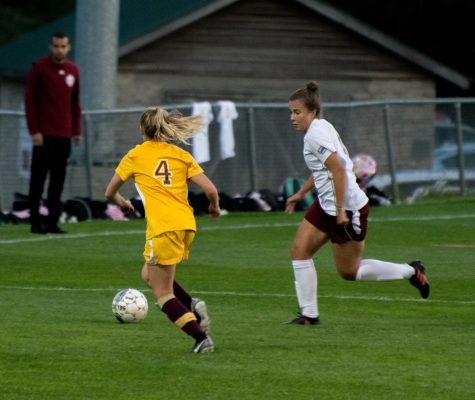 While most Park University students enjoyed a fall break away from school, both the men's and women's soccer teams have been busy battling through their respective seasons.
The women's soccer team started fall break with a 2-0 victory over Lyon College in Arkansas on Oct. 10. It was a zero-score game for much of the playing time. Senior Alexis Fry scored a goal in the 82nd minute, and then Junior Kerinne Murry sealed the win with a second goal in the final minute of play.
In their second game over break, the women lost to Columbia College in Columbia, Mo., 3-0. The Cougars are a tough opponent, ranked fifth in the American Midwest Conference. The Pirates were unable to put any points on the scoreboard against the Cougars, despite making eight shot attempts.
The Cougars, however, were able to get off 20 shot attempts with three of those scoring points and clenching a victory for the opposing team. The women's performance in the game fell short of their usual play. According to the Park Athletics website, the team averages 20.7 shots per game. It's clear that the difference in their performance last Friday may have led to the loss.
The women's soccer team's overall record is eight wins and four losses as they approach their next game on Wednesday, Oct. 18, against Stephens College in Parkville. This night will also be Cancer Awareness night.
For the men's soccer team, fall break brought the most recent challenges in a six-loss losing streak. On Oct. 10, the Pirates lost to Lyon College 2-1. However, it was a hard-fought game. At the 62nd minute of play, the Pirates tied the score 1-1. The two teams continued to battle it out into a second overtime, when Lyon College scored the winning goal with only a minute and 37 seconds remaining.
On, Oct. 13, the men's team also lost to 17th-ranked Columbia College, 4-1. The Pirates got into an early deficit, falling behind 2-0, and never came back. The team did manage nine shots with four shots on the goal, but similar to the women's team, this was far below their season average of 17.1.
With any luck, in their next game on Saturday, Oct. 21 against Williams Baptist College the men's soccer team will be able to end their losing streak and beat the Eagles. The team's current overall record is eight wins, five losses and two ties.