Men's volleyball wins all four games in the Pirate's Invitational Tournament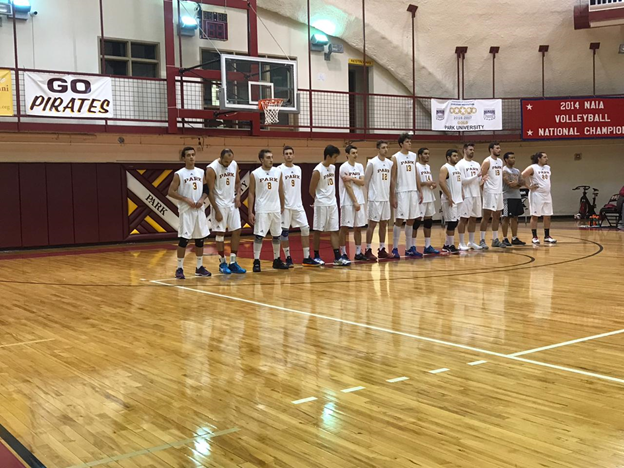 Park's No. 5 ranked men's volleyball team hosted the 2019 Pirate Invitational Tournament on January 25 and 26. Benedictine University, Briar Cliff University, Ottawa University, Cumberland University, Missouri Valley College, Mount Mercy University and Morningside College were all invited by Park to be participants of the tournament.
For their first game, the Pirates faced Mount Mercy University and lost the first set by 25-23. After receiving instructions from Coach Mike Talamantes, the players came with a different approach, playing more aggressively and using their outsiders more efficiently. With these changes, Park got a 3-1 win.
"We didn't play good in the first set. But, after we got into the game, we started playing a little bit better and we got them," said freshman Arthur Decker, the Brazilian outsider for Park's team.
The second game of the tournament for Park was against the No. 2 team in the country, Benedictine University. The expectations for this match were really high as Park was defeated by Benedictine last year. The Benedictine Eagles won the first set by 25-20. Once again, Talamantes was able to give instructions for his players during the break between sets and make the players get into the game. Like the first game, Pirates came back and took the win 3-1.
On Saturday, the Pirates came back to Breckon Sports Center to play against Cumberland University and Missouri Valley College. The Pirates beat Cumberland and Missouri Valley College both in three straight sets and finished the tournament with four wins.
For Felipe Chagas, Park's sophomore middle hitter, the expectations for this year are high.
"I'm feeling the team much better this year," Chagas said. "We have more experience, we are more together in the court and doing the best we can."
Andrea Maggio, the senior 2018 First-Team All-Conference outside hitter, is in his last season for the Pirates after two years playing for Park.
"It is a great environment, a great team, a great family, and I will keep doing my best to help the team," Maggio said.
The Pirates will face Dordt College for a match February 2 at Breckon Sports Center.