Women's Soccer tops Baker for first time since 2005
Park women's soccer celebrated homecoming with a 1-0 win at Julian Field over conference rival Baker Wildcats on Saturday, Oct. 1.
The Pirates were winless from the last 12 meetings with Baker, last beating the Wildcats in 2005, but a 70th-minute strike from senior Harper Manley was all the offense needed to overcome the Wildcats on homecoming.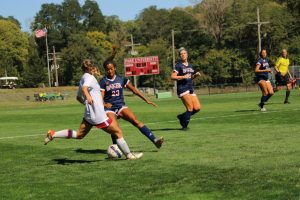 The game's only goal came after the first attempt rattled the crossbar before the rebound deflected to Manley, who put the Pirates ahead with her first goal of the season from six yards out.
Most of Baker's pressure came in the first half, where they hit the target four times. Holding onto a 1-0 lead, Park's defense withstood the remaining pressure and allowed just one shot on target in the final 20 minutes.
The Wildcats came close to leveling the score in the final minute after a bad giveaway by Park, but Baker's shot sailed just wide.
Pirates goalkeeper Felicitas Mueller recorded her third clean sheet of the season, making five saves throughout the 90 minutes. By the contest's conclusion, Baker outshot Park 12-9.
Park sits 10th in the Heart of America Athletic Conference standings with a 2-3 conference record, 4-3-2 overall. With four wins in nine games, Park has as many wins as the previous two years combined.
Park has seen improvements offensively, as the Pirates have scored 12 goals from their opening nine games this season compared to 11 goals they scored in 13 games last year. Dragana Andonovski leads the team with seven goals, including a hat trick in a 6-1 win over St. Mary's on Sept. 8.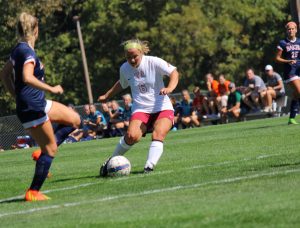 After hosting the Graceland Yellowjackets on Wednesday, Oct. 5, the Pirates hit the road for matchups with No. 8 Central Methodist and Grand View. The Pirates return to Julian Field on Oct. 19 against Evangel.