Women's Volleyball heads to nationals final site
The Park University women's volleyball team booked their ticket to the NAIA National Tournament Final Site in Sioux City, Iowa for the 10th straight season.
The Pirates fell to Missouri Baptist 3-2 in the national championship just last season. This year, Park won a share of the regular season conference championship but lost to MidAmerica Nazarene in the conference tournament championship 3-2.
Another deep national tournament run would quickly erase the pain of defeat in the conference tournament championship.
Park got off to a good start on Saturday, Nov. 19, as the Pirates rolled through the Cumberland Phoenix 3-0 in the NAIA National Tournament opening round at Breckon Sports Center, taking the first two sets 25-16 and set three 25-18.
The Phoenix managed to keep up with the Pirates in the first set, tying it up at 10-10 before the Pirates pulled away with a nine-point victory.
It was all Park in set two. The Pirates gained an early 6-1 lead and never let their foot off the gas. It was a similar story in set three as the Pirates jumped out to a 9-3 advantage and maintained the lead throughout the game-winning set.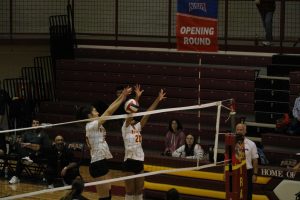 Sophomore setter Julia Alvarez had a game-high 25 assists and sophomore opposite hitter Debora Bernardi tallied nine kills.
Park, one of 24 remaining teams, heads to pool play at Tyson Events Center in Sioux City, Iowa as a No. 2 seed matched in Pool D with No. 1 seeded Concordia (Neb.) and No. 3 seeded Hastings (Neb.).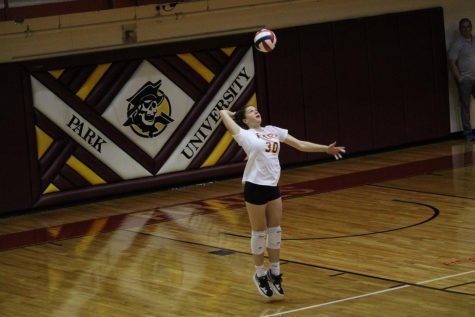 Park's opening match is against Hastings on Thursday, Dec. 1, at 1 p.m. Park plays Concordia on Friday, Dec. 2, at 1 p.m.
The winner of each pool group advances to the single-elimination quarterfinals on Dec. 3 ahead of the semifinals on Dec. 5 and the NAIA National Championship on Dec. 6.