PSGA welcomes newly elected officials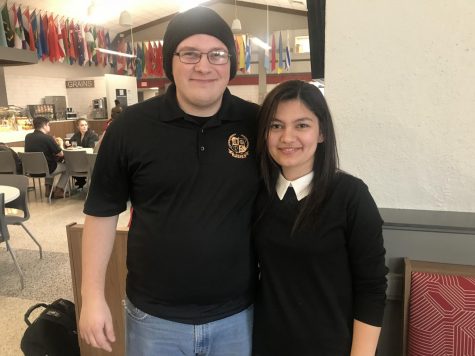 April 4, the Park Student Government Association, also known as PSGA, held their annual elections to declare the 2018-2019 executive board. Students campaigned for weeks leading up to the event to fill positions such as the President, Vice President, Secretary, and Business Manager.
PSGA is an organization that is responsible for many of the changes around Park University. This past academic year has been a big year specifically for technology. PSGA has brought digital printers, laptop kiosks and a virtual reality room on campus. As the current executive board gets ready to step down, four new members are ready to step up and make their mark at Park.
Jesse Patrick, sophomore, computer science major and future president of PSGA, is looking forward to having a strong voice in the campus community this coming year. Patrick's goal as president is to make PSGA more accessible to students.
"I want to make PSGA more transparent with Park," said Patrick. "I feel like students vote when elections come around, but they don't ever see what we do after that."
To help with this idea, Patrick hopes to create office hours for PSGA officers. This would allow students the opportunity to personally voice their opinions or concerns and help make a move quicker. Patrick believes this is a more efficient way of communicating rather than just the suggestion boxes around campus.
"I want students to be able to come to me about their concerns so that they can see it actually go through and happen," said Patrick.
Patrick is most excited about working together with his team, making memories, and bringing positive changes to Park.
Iroda Narzullaevn, junior, computer science major, won the position of Vice President. Narzullaevn has been a member of PSGA for three years now. Formerly serving as the organization's media manager and also a 3-year member of the tech fee committee, Narzullaevn has a lot of ideas for the upcoming year and is looking forward to working on collaborating more with other organizations. Narzullaevn is currently the president of the Association of Computer Machinery, also known as ACM, and believes that they could greatly impact the tech fee committee if the two worked together.
"I really want to bring ACM forward in tech fee meetings because I have a really diverse club and I really want to hear their ideas. They are all great individuals and have had input in technology on campus such as the virtual reality room."
Patrick and Narzullaevn are excited to take on their new roles. Alongside them will be sophomore, business administration major, Heather Cole. Cole will be serving as the PSGA Business manager. Sophomore, Sarah Zitter, will also be doing the executive board as the secretary.
The team is still looking for candidates to fill the role of media manager. This position keeps students connect to PSGA through their social media and website. The organization will be sending an email out before the end of the semester with more information on how to apply.