Plaza Art Fair weathers the storm
Jon Hokenson, Editor
September 27, 2019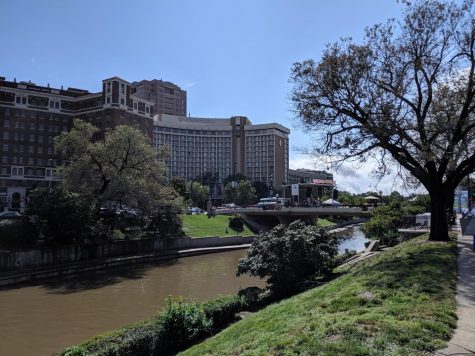 Last weekend was the 2019 Plaza Art Fair in Kansas City. It also saw a downpour of more than an inch of rain. The fair has survived 88 years and one flood, though. So even if the crowds were damp, spirits remained high.
"The atmosphere of the show has been great," said Erica Iman, a vendor at the fair. "We had a downpour Saturday afternoon, so everyone closed their tents. But as soon as the rain let up and I opened my tent door, a flow of traffic came right back." Iman is a ceramic sculptor and proprietor of Erica Iman Studio. She said in addition to keeping her fragile pieces dry and safe from the strong winds, she was very concerned about the turnout in light of the rain.
"I was extremely impressed," she said as a steady stream of patrons perused her art. In addition to sculptures, Iman's booth displayed paintings made from raw ceramic materials of powdered black iron streaked and layered across paper canvas. She said experimentation and trying something different with each project were keys to keeping her art fresh after fifteen years.
"It's just mind boggling how talented these individuals are," said Bekah Boyer, membership manager at the Nelson-Atkins Museum of Art. Boyer was attending the fair for the first time after moving from Dallas last year.
"I think it's something that Kansas City should be very proud of," she said. "I love the spirit here. And I get to talk to artists who are currently living which is not something we always get at the museum."
With the temperature hovering right below 90 degrees and the humidity index never far from 80 percent, the heat of the fair was almost as intrusive as the rain, at times causing an entire side of the street to clear in search of shade. Jackie Burditt, an emergency room nurse at St. Luke's Hospital on the Plaza, was on hand to provide emergency services. She said to her knowledge, there had been no incidents, which she prefers.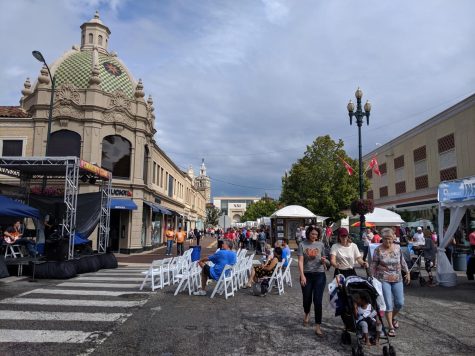 "As much as we like our Kansas City people, we'd rather we didn't see them in the ER," said Burditt. Down the block, taking the nurse's advice and drinking plenty of water, Tinna Stewart directed traffic through and around the area. Stewart said she's also seen her fair share of street festivals, traveling around the Midwest with a traffic control service for such events. Despite the rain, heat and crowded streets of the three-day festival, her excitement remained undamped.
"This is my first time ever being in Kansas City," said Stewart. "It's beautiful. I love the art here. Just to be standing out here, the feeling that I get, the people are just so nice. All of it's been a real good experience."
As Sunday evening approached and the festivities drew to a close, festival patrons haggled with vendors for last minute deals while the food stands barked out discounts. Kansas City local Paul Davidson carried a large, rolled lamp post banner from a previous year of the festival beneath his arm.
"They've got Elvis on one side and BBQ on the other, he said. "So, I couldn't pass it up, and I bought the last one."
Davidson said he grew up just a few blocks away at 47th and Jefferson and has watched the city's downtown grow into a thriving commercial district throughout his life. When asked if he thought growth had paid off and readied the city to compete on a national level as a destination, he didn't hesitate.
"Hell yea it is," said Davidson. "I'll swear by this city. We are world class. That's just the way it is."