Park students host book swap
Jon Hokenson, Editor
November 16, 2019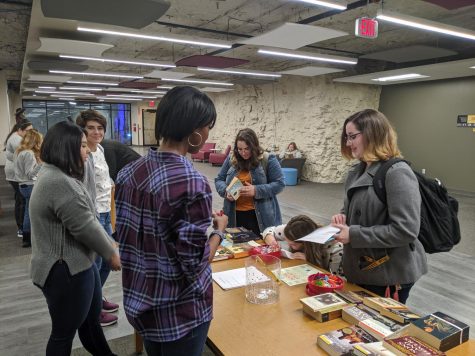 Ideas and information flowed freely through Park's underground last Thursday when students hosted a book swap in the Academic Plaza. All who passed by were encouraged, with varying degrees of enthusiasm, to take a new book in exchange for an old one.
"There's maybe a misconception about people who like literature," said senior English major and event attendee Sydney Doyle. "That they're kind of shut in and it's something you keep to yourself."
Doyle said she hopes events like this can help quash that misconception. She said her lifelong love of writing was pushed to the level of a possible career path by a high school teacher sharing a book with her.
"It was Into the Wild by Jon Krakauer," said Doyle. "It changed my perception about the stresses society puts on people."
Down the table from Doyle, browsing through the stack of books, junior English major Madelyne Hartleroad recalled her father bringing home two fantasy novels from the library when she was 11 that affected her so strongly, she still writes fantasy today.
"You can actually give a book to someone else and that's a really meaningful exchange," said Hartleroad. "You can't really hand someone your Amazon Kindle and say, 'Here, read this.'"
For event organizer Mariana Ordaz, the story of a physical book reaches even beyond the one contained in its pages. Ordaz is an English major who said she wants to go into publishing and editing.
"A lot of work goes into it," said Ordaz. "Not just the author. There's the editors, the publication company, there's a lot of people involved. You can feel and touch a person's work."
Senior English major Victoria Ward said she gained a similar widening of perspective from planning the event.
"It was a major project," said Ward. "We had to plan the event, create a budget and proposals. You find different people and really grow a community." Ward and her classmates are enrolled in EN 307: Professional Writing in English Studies, taught by Assistant Professor of English Stacey Kikendall, Ph.D.
"I'm proud of the work my students have done putting on these events," said Kikendall. "As long as books have existed people have talked about them. The basis of our literature classes is to exchange ideas the books have inspired because of our different perspectives."
Kikendall said she brought three books to the event; Pride and Prejudice by Jane Austin, Jane Eyre by Charlotte Brontë and Frankenstein by Mary Shelley, because she couldn't choose just one. For anyone who didn't have three books, or any, on hand, the organizers brought extras to share.
"We thought it was important to share that with others," said senior English major Blaire McClain. "This was a chance to get into genres people might never have been interested in and maybe they can make friends and share something significant."
To ensure enough books were on hand, McClain said the group was gifted books from Assistant Professor of English Glenn Lester and Professor of English Stephen Atkinson, Ph. D. She said they also purchased some books with donations from ERA McClain Brothers Real Estate, the Kansas City Tea Market, Pharaoh Cinema 4, Clinton's Soda Fountain and Café Verona in Independence. These groups also provided raffle prizes for participants.
McClain said books are important because they can create a connection to a feeling even if the specific details in people's lives are very different.
"I brought The Bell Jar, by Sylvia Plath," said Mcclain. "I read it a lot in high school. I wasn't going through exactly what she went through, but it still meant something to me."
Erica Moore, senior English major and the book swap's architect, said someone giving her the book, In a Pit with a Lion on a Snowy Day, by Mark Batterson, was the catalyst for her college career.
"I felt stuck," said Moore. "The book is about knowing when opportunity strikes, or roars, so you can basically step out on faith and do what you were called to do. I'd worked in retail for eight years, and I realized I mirrored the person that was going through that. That book gave me the push that I needed, and if someone would have never gave it to me, I could still be there."