Interaction is a big challenge for online international student
Prior to the COVID-19 global pandemic in 2020, international students could not take classes online as they had to maintain the minimum full time credit hours in person. During the pandemic, this rule was modified for international students so they could also take classes. This year, a new guidance was added by the United States government, which states that students who enrolled after March 2020 can only have 3 out of their 12 credit hours as online while students who have been in the States prior can take online classes.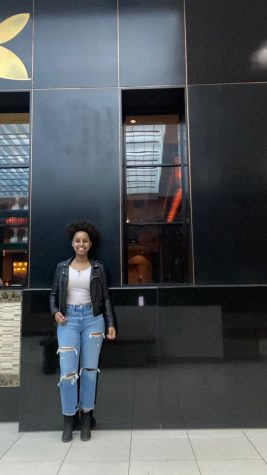 For Eve Admasu, an online international student from Ethiopia who now lives in the U.S., this is an advantage to her as she can take classes online. Admasu is a graduate student majoring in information systems and business analytics. Admasu was looking for a school with the ISBA program, she narrowed it down based on the filters she had for herself: finances, location, amongst other things. As a result, she found out about Park University.
"It came up in my research," she said.
Admasu had not intentionally tried to be in the business analytics program as she had always thought she would go into economics, but she had always been interested in the tech side of the world and wanted to know more about the business side as well. ISBA was a perfect middle ground for her ambitions in business and tech.
She came across the ISBA program, which serves as a perfect middle ground. Settling on Park, Admasu said, "In terms of being an international student I am well accepted. We have pretty strong international student support system from what I have seen." Being an online student however, Admasu is faced with certain challenges. Her initial plans were to attend classes in person as she doesn't enjoy online classes. She enjoys being able to ask questions, being in a space with other students, and interacting with students and faculty.
Admasu chose to be online due to the convenience that comes with it. "It's almost $10,000 less," she said. Also living in another state, moving is a challenge for her. After moving a lot in the last couple of years, she said, "Moving takes a lot out of you. I've moved almost every year since 2017." Knowing she'd be in the same place for two years, Admasu was going to consider being in Parkville, Mo., but she also assumed classes would be hybrid.  She wasn't aware there was no Zoom and communication was mostly by email.
"In my first course, I said, 'Hey when do we meet?' That's when I was told that, oh this is actually an online program, so it's strictly online, you don't really meet people," she said.
For Admasu, since it's a new course and field to her, it can be discouraging when she has questions. "Ultimately, you kind of get the groove of things, you learn how to do it," she said. Now, she has a plan to keep her on track.
Admasu thinks the program is designed for people who work primarily full time and can take classes between their time, at night or their own schedules.
In speaking with the program advisor, Admasu noted that the university leadership is working hard to modify the program to better suit international students who do it as a full-time program rather than part time. "As of right now, it's geared towards people who work rather than us, I want to believe," she said.
To better serve international students, Admasu agrees the program should be modified to give students who have the capacity to meet online an opportunity to facilitate conversations. She also suggests a one-day question and answer session with the professor, checking in with struggling students, and seeing what level of understanding students have.
Learning is important to Admasu and she wants to be able to learn as opposed to teaching herself. "If I were to think of how to do things better, I would have the students be the center of the course." Admasu thinks facilitating a medium of conversation would be a useful addition to the course and her overall school experience. While she knows not everyone sees the course or approaches it the way she does, Admasu said, "I'm sure people like me exist and we would love to have some level of involvement with each other and not just shoot things in the dark."
While she utilizes email and Canvas to communicate with her professors, it's not ideal for her.
Though these challenges exist, Admasu works around them to create a good experience at school. At the beginning of the semester, she looks through the course and creates a set of questions to ask her professors in a one-time meeting. That way, they are able to go over the course and see how to approach it.
While she would love more opportunities to interact with professors and students, she utilizes the opportunities she has at her disposal like emailing professors and asking for Zoom meetings if that's an option for them.
Regarding general student life, Admasu says she doesn't feel connected to Park at all. "Events and celebrations people may have on campus, they don't really apply to us."
Admasu gets emails on big campus events and links to join. "But that's to see stuff and not so much like interact with people," she said. Admasu also said she understands the reasons they are not involved in activities. "I don't blame them, because if you're not there, then there is no way they can involve you. But as a student, it bothers you a little."
Admasu says the international office has helped her. One of the reasons she came to Park was because of the former Director for International Student Recruitment and Designated School Official (DSO), who was a great help. "She was great; she was perfect. She made me feel so welcome like I was already there, which is not something that you see people do because they have a lot of students. They don't have time to individually make you feel special." She also said the person who took the DSO position was just as helpful.
Despite being miles away from the physical campus and with the desire to still come to campus, Admasu has always found a way to use the information at her disposal. She has held a work study position and is currently a graduate assistant in the registrar's office.