Photography exhibit exposes how we frame and capture life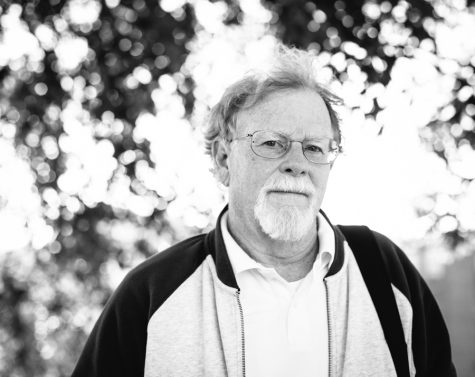 Suspended in front of the walls of the Campanella Gallery on the second floor of the Norrington Center are 25 photographs. The images are the work of John Lofflin, professor of journalism at Park University.
The show, "Surprise, Color!" opened on Oct. 16 with an intimate reception for family and friends and is on display through Nov. 30.
Along with the artist statement, Lofflin has included a brief biography for each image. Supplied with "some trepidation about combining photographs and words," Lofflin wrote.
The document covers much of the content of the show. The only other necessary elements are a bit of time and some reflection. Interpretation and appreciation are a personal experience.
Spending time with Lofflin in this space, with these images, elicited a unique experience from viewing them alone.
Lofflin, a professor known to lead courses with passionate lectures and discourse, was quiet, even reserved. He reiterated and expanded on the statements for each image.
"If you're a photographer, you never look at a photo casually," Lofflin said. "You look at the choices that were made, just like in writing."
The delivery was intimate, like a father after his daughter's wedding or his child's graduation.  Lofflin seemed to be expressing a sense of liberation and quiet pride in watching these images stand on their own in the world.
This show is a collection of relationships. It has been in the works for the past four years, although many of the images have been in the works for much longer.
Take "Rushing Water II." "It was probably shot in the 1970s," Lofflin recalled.
Or the image titled "Broken X." Unlike many contemporary images that are transferred from film to digital, this went from digital to an analog process.
"I couldn't get the image to do what I wanted digitally," Lofflin said. "So I made a contact print and developed it in the dark room."
Other images spoke to Lofflin, scribing their own narrative. The image "Twenty Raindrops Figure Study" is an image that: "When you look at it in color, it is just a nice snapshot of a yellow tulip," Lofflin said. "In black and white it becomes this wonderful figure study."
Indeed, the image is sensual and elicits the suppleness of youthful skin. It is in contrast to the nearby neighbor "Tulip Splayed," which depicts a weathered tulip with petals rutted and tarnished by time. The result is two images showing very different phases of similar flowers.
Lofflin claims to not take images of people anymore. Yet these photos represent facets of human experience that are often neglected. These are not images that challenge or address big ideas or problems in the world. These images identify the beauty in the trivial moments of life. The moments that cumulatively compose the vast majority of our conscious experience.  It could be argued that this accumulation is the big idea of life.
This show represents a milestone for Lofflin.
"After the Black Sky show, I never made another Black Sky image," Lofflin said, discussing his previous photography show. "It could be a film or a novel. I don't know, it's exciting."
What is next is still down the road. This show is the present for Lofflin, and it is on display for you to meet the frames and exposures that he has nurtured for years.
"What always emerged for me," Lofflin said, "part of the surprise, is the things you walk by, walk on, things you might not see. I want to brighten people's day. I want people to see the 'Leaf Spokes' and maybe they see a leaf in a way they hadn't seen it before."