Campanella Gallery hosts natural art elements exhibit
The Campanella Gallery in Norrington Center is showcasing an exhibit titled Natural Elements featuring works by artist Laurel DeFreece.
The exhibit opened Aug. 5 and will be on display until Sept. 27.
"Students are very invited and welcome to come into the gallery anytime that the library is open," said Professor of Art and Program Coordinator of Fine Arts Andrea K. Lee, Ph.D. "I hope they take time to view the works of art and also to read the artist's statement in order to have a better understanding where she's coming from."
The installments were all made with the style technique of mixed-media. This means two or more materials were used to create each artwork.
DeFreece said this is a technique used throughout all her artworks. She expressed her love of this stylistic choice by saying it gives her the ability to create unique pieces that could not be achieved by just using one material.
The artworks showcased in the gallery were created in order to shine a light on DeFreece's love for nature and her message of preservation.
"I wanted to send the message about the importance of prairie, and my love of nature and everybody's love of nature. I just tried to capture that love and importance in my work," said DeFreece.
Though having been an artist since she was a little girl, DeFreece's art was not always inspired by nature. It wasn't until she restored her property that she began to use her art as a platform for her expression for her love of the prairie. This exhibit features those new works.
"We bought some land about 20 years ago, and that land was used to run cattle on before we bought it," said DeFreece. "We restored the land to its original prairie, what it would have been before farming. So, we restored the prairie. So, doing that labor and that work and the reason why we did it, changed my art."
Nature is not only featured as the main subject of the exhibit, but it is also the inspiration for the materials used to create the artworks.
"She is very inspired by the prairie and being from the Midwest," said Lee. "So, a lot of her work is inspired by things in the prairie including birds, nests, and she uses a lot of natural materials from the prairie."
Natural elements like encaustics, or bee's wax, and natural papers made from native grasses were used as the materials that helped create the paintings, sculptures and prints featured in the gallery.
One way nature was used not only as inspiration, but as a material, was by using a real bird's nest that DeFreece had found unoccupied on her property. She used the nest as a model for seven of the paintings featured. She also contributed the actual nest into the featured sculpture named "Protecting the Nest."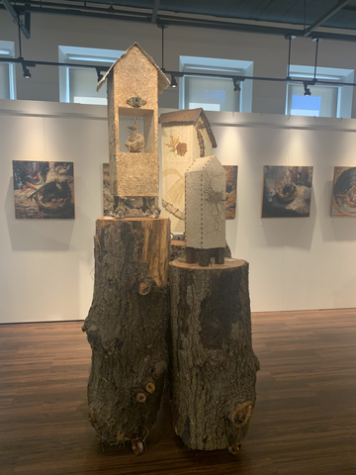 By using natural elements, DeFreece is able to keep the pieces connected to nature through the use of recycling. This makes each piece environmentally friendly.
Using environmentally-friendly materials gives DeFreece the ability to be able to express her message of the importance of preserving nature. She expressed wanting those who visit the gallery to view her pieces and take away that message.
"Everybody should be interested in doing what they can, whether it's just simply recycling or doing what they can to preserve our planet, and do what we can to make it known to those who don't," said DeFreece.
The exhibit can be viewed anytime during Norrington Center's hours. It is open Monday through Thursday from 7:30 a.m. to 9:30 p.m., Friday from 7:30 a.m. to 4:30 p.m., Saturday from 10 a.m. to 4 p.m. and Sunday from 4 to 9 p.m.