Park alumnus embarks on year of study at Oxford
Chasing dreams across the pond
What's life after college like? For some it's landing that nine-to-five job, for others it's about returning home and taking some time to breathe after the years of studying. For one Park University graduate it's about taking a risk and chasing your dreams.
Ryan Zitter, 22, graduated from Park University in May 2018 with a major in biology and minors in chemistry and Spanish. Furthering his education after Park was always the plan, but being accepted to his dream school in London, England, has brought his dream to reality.
"I was applying for medical school and Oxford, and I knew if I got in to both I would choose Oxford," said Zitter. "It was a desperation shot in case I didn't get in to medical school but also a wildest dream."
After completing his application, submitting three letters of recommendation and a two-page essay, he finally got the email that would change the course of his year.
"It was the end of the window for when I was supposed to hear back from them, actually, the day before the selection process was closing when I received an email asking for an interview," said Zitter. "They had lost my paperwork so I almost wasn't even considered."
Paperwork has been a continual battle for Zitter, causing a lot of stress and doubt that this journey could fall through.
"It seems like there have been a lot of checkpoints. If anything goes wrong I'm not going," said Zitter. "I finally got my visa, I nailed down my apartment, but housing was an issue for a while. Financial declarations was an issue for a while. This has been the most nerve wracking part of the process."
With the hard part behind him and a final Skype interview, Zitter is officially a student of the University of Oxford. While Zitter had patiently waited months to hear back from local medical schools, it was a matter of days for things to unfold with his dream school.
Zitter will be working toward his master's degree by studying radiation biology in the department of oncology. This program relates to the research on algae and Martian radiation he was doing in his undergraduate at Park University. He will apply this research during his time at Oxford.
"I will be joining some of the best researchers and labs at a top ranked university, so I have no complaints," said Zitter.
According to Times Higher Education, the University of Oxford is the highest-ranking university in the world. It is the oldest English-speaking university and the second oldest surviving university. Oxford has more than 250,000 alumni, 120 of them being Olympic medalists, 26 Nobel Prize winners, seven poets laureates and many modern world leaders. Perhaps the success of these students come from the university's incredible resources. Oxford has more than 100 libraries, which is the largest library system in the United Kingdom.
While education is Zitters' top priority for his journey to England, he has many other exciting plans in his future.
"I'm excited because I'll be in my first apartment," said Zitter. "Graduate housing had filled up, but the campus is spread across the city so I'll be close to everything. I also plan to do some traveling and join a soccer league."
Zitter also looks forward to visiting Park alumnus Derek Braun who will be attending the University of Sussex, just a two hour train ride from High Street, where Zitter will be staying.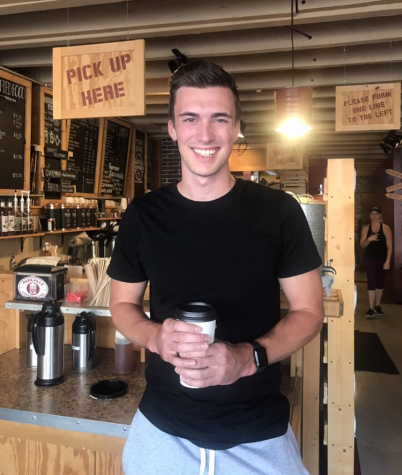 While he is sad to leave Park, Zitter is excited about this next chapter in his life. He will leave for London on September 22, where he will study for nine months and then return to the United States to attend medical school at the University of Kansas Medical School. Since classes at Oxford resume later in the year, Zitter will have to return to London to complete final exams next September after already starting at the University of Kansas Medical School.
As his dreams become reality, he thanks Park University for this opportunity.
"Park is the reason I am able to do this." said Zitter. "By having professors who would write me letters, by the research I did, and through the opportunities I had through other programs, that is what made this possible."