Park dorms are putting on a "show" for prospective student
There's one change on campus that might not catch the notice of current students – two new dorm showrooms for prospective students to visit during campus tours.
According to Sherrie Sims, Parkville daytime admissions coordinator, these showrooms were created to give family and students an idea of what the dorms look like.
The showrooms, located in Copley Quad 116 and Chesnut Hall 208, are currently unavailable as a living space for students.
"Previously, during the academic year we would (work) with a student ambassador and use their room as a showroom," Sims said. "We would let that student know in advance when there would be a tour, and they could choose to leave or remain in that room at their own discretion."
However, all of those in-person visits were suspended in the 2020-21 school year due to COVID-19.
When visits began again over the summer, Andrew Davis, director of enrollment and student success, brought up the idea of using showrooms. The admissions team contacted Tonya Robbins, director of residence life, to discuss the possibility of using one room from each residence hall building to demonstrate the importance of rooms for the traditional first year living experience at Park University. Copley Quad is located on the tour route, and Sims explained that if visitors have a special request, they display the room in Chesnut Hall.
Sims who enjoys decorating, designed the rooms with an interior designer's heart. She said she feels like the design could be improved because she got rushed and had a short amount of time to finish them.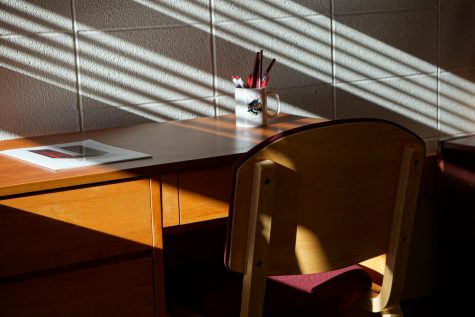 "Once I found the bedding then I can just go from there, pick up color then try to get everything else pull out together," Sims said.
The work appears to be paying off though. Sims said, "We got positive feedback about how they look."