Park University Downtown Campus Renovations
Hang on for a minute...we're trying to find some more stories you might like.
The downtown Kansas City campus center for Park University, located at 911 Main St., recently underwent a full renovation and facelift. This was a major project for the university, with high hopes of increased enrollment and opportunity for students.
Park University has had a campus downtown for more than 40 years. For the last decade, the historic Commerce Tower has been its home. In 2015, developers planned a $139 million renovation of the 30-story building, which was Kansas City's first skyscraper.
 Those plans opened new doors for the university.
 Park now resides on the third floor of Commerce Tower, previously calling the eighth and ninth floors home. Original renovation plans were mapped out for utilizing two stories again, however, the majority of that space was going to be used for faculty, so the decision was to move the faculty to the main Parkville campus and keep the school on just one floor of the building.
Jason Anderson, area director/Kansas City operations, and the rest of the faculty are warming up to the modernized space well.
"The majority of the tower is being flipped to residential apartments," Anderson said. "The new space and renovations will help increase enrollment and provide great opportunities for the school."
 The downtown campus offers undergraduate and graduate programs with day, night and weekend classes. Many accelerated eight-week courses are provided at the campus center.
Park repurposed much of the old classroom furniture. The main showroom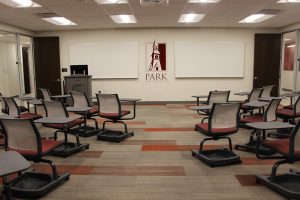 has all new furniture, as well as new technology throughout. The largest classroom seats 30 students. Other rooms can fit between 22 and 28 students comfortably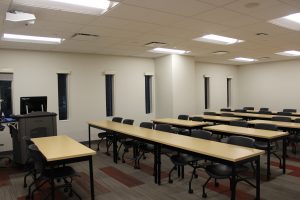 .
 Two classrooms are equipped with 90-inch screens and technology to connect to Pirate Patch, a new way to connect two or more classrooms to through live video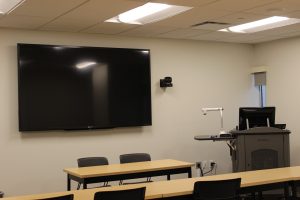 . This will allow classes at other campuses to connect and students to interact with professors across the nation.
The new renovations included a large space for students to study or have time to relax between classes, with study tables, computers and some soft seating furniture.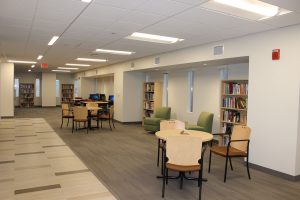 This space includes two collaborative rooms for small group study as well. These rooms have smart technology that allow devices to connect to a large projector through bluetooth capabilities.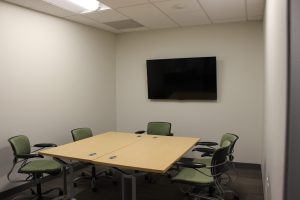 Other additions include a vending area, as well as conference room for faculty and visitors from other corporations to use when invited to the campus for events. These additions as well as all other renovations have hopes of boosting enrollment and encouraging local students to have a change of setting, as well as providing more opportunity for all.