Park women's volleyball sweep Indiana University East in NAIA Opening Round
The No. 2 ranked Park University women's volleyball team swept past Indiana University East at Breckon Sports Center on April 17, advancing to the NAIA National Championship pool play.
The Pirates took the first set 25-18, the second set 25-15 and the final set 25-18. This was also the first time that Park hosted the NAIA opening round since 2013 when they swept Asbury in three sets as well.
With Saturday's win, Park advances to the NAIA final site for the eighth straight season. Park also remained unbeaten against NAIA competition this season, now sitting 20-0, though they have suffered three defeats against NCAA Division II schools.
Park took control immediately in the opening set against Indiana University East, scoring the first three points. After the Red Wolves came within a point to make it 4-3, Park regained control and extended the lead to seven points as the score stood at 13-6. Park continued to hover between a three and seven-point advantage before senior middle blocker Kyra Kaloi claimed the winning point of the first set.
The Red Wolves grabbed their first lead of the day in the second set, as they led 5-4, 6-4 and 6-5. The Pirates had a strong response and ended the second set with what would be their largest lead of the day, beating the visitors in set two by a final score of 25-15.
After facing a three-point deficit in the third set as the visitors were on top 7-4, Park fought back once again and scored five straight points to run in front, 9-7. After Indiana University East managed to draw level in the third set twice at 9-9 and 12-12, Park cruised to the finish line as senior outside hitter Alissa Flint slammed home the match-winning point.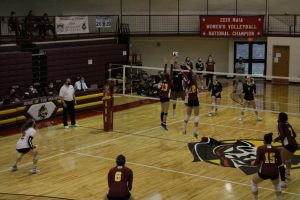 Sophomore outside hitter Malaina Hensley had a game-leading 14 points and 13 kills for Park. Senior opposite hitter Noura Meawad finished with 12.5 points for Park and sophomore outside hitter Déborah Bernardi finished with 10 points.
This brings an end to the season for Indiana University East, as they lost their fifth straight match to end the season with a 13-5 overall record.
Park is now confirmed as one of the 24 remaining teams in the NAIA. The team will begin pool play at Tyson Events Center in Sioux City, Iowa, on April 27 against Bellevue University and on April 28 against Dordt University. Check parkathletics.com for live video.