Artistic Collaboration Through Generations on View Now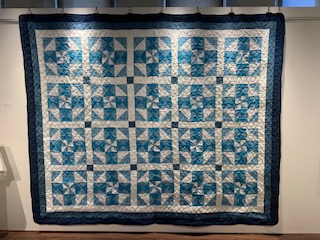 From January 22 to February 28 the Campanella Gallery in the Norrington Center is featuring an exhibitions titled "Women's Work."
The Paintings and Quilts Art Exhibit is showcasing paintings created by Professor of Arts and Program Coordinator of Fine Arts Andrea K. Lee, Ph.D., and quilts handmade by her paternal grandmother Enid Lee.
Art pieces on display are expressionistic paintings co-existing along side quilts created throughout the lifetime of Enid Lee to perfectly showcase the beauty of women's talent throughout the lifetime of a family. The quilts were created throughout over 70 years of Enid Lee's life. Each was specifically made for every member of her family as a unique way to express her love for them.
"She never sold her quilts, she made them to give to people she cared about, for her they were an act of love," said Andrea Lee.
The exhibit highlights the empowerment of women in a time when they were primarily housewives.Enid Lee grew up during a time and place when women no commonly employed outside the home  and often had little to no education. She always wanted to become more then a housewife and even expressed that if she was a man she would have became a builder.
Instead, Enid Lee expressed her creativity through her works on quilts. Each quilt was made unique by using a mixture of different textiles, fabrics, and paints.
With no formal training, Enid Lee was able to create these quilts by simply using her natural talent and creativity.
"She was very smart and very creative but she did not go to art school, she was not formally trained but she had a real sense of beauty and design," said Andrea Lee.
The paintings on display were created as a way to pay homage to Enid Lee. Andrea Lee's love of the mixed media works in the quilts drew her to create each painting to be made in a similar style of incorporating a variety of acrylics and fabrics.
The co-existence of both artists' works gives visitors of the gallery the unique experience of being able to look into the lives of each women and see the family's artistic tradition.
Student, faculty, and members of the community are encouraged to visit the gallery anytime the Norrington Center is open. With benches spread throughout, there is ample opportunity to study the surrounding pieces in peace.
The gallery is free to everyone and is open everyday. The hours are Monday through  Thursday from 7:30 a.m. to 9:30 p.m., Friday from 7:30 a.m. to 4:30 p.m., Saturday from 10 a.m. to 4 p.m. and Sunday 4 to 9 p.m.