Hunger in Higher Education
Hunger is an issue affecting more and more students each year. As food cost and tuition increase, diets decrease. A poor diet or lack of food can cause you to not perform at your best. Your body needs food to fuel everything you do from work to sleep. Understanding the benefit of different foods, and how to cook them can help you avoid hunger.
Although I'm off campus, I have struggled with a lack of food and had to rely on creative measures to eat. I found that just 3 things in my kitchen gave me a variety of meals (especially when money is tight): rice, beans and pasta. The three are cheap and can be bought in bulk. You can take almost anything in your kitchen and make a meal from these three. Whether it just be seasoned buttered pasta, sweet rice or chili- you won't starve.
Beans are full of protein and low in fat. They're filling and full of fiber. Rice is light, versatile and good for your heart. It can help balance out your blood sugar, boost your metabolism and help with digestion. Pasta can be paired with almost anything and provides you continuous energy with its carbohydrates.
For a few dollars, at any store you can get one or all three.
When I'm tight on money, I'll buy vegetables for fried rice. If I have beans, I'll make chili, soup, or burgers. If I have pasta, I'll use milk for an alfredo pasta or sautéed vegetables with pasta.
Here are some meal ideas with rice, beans or pasta:
Buttered Pasta
Red Beans and Rice
Ham and Beans
Vegetable Fried Rice
Alfredo Pasta
Fried Rice with Egg
Steamed Rice and Vegetables
Sautéed Vegetables with Pasta
Chicken or Beef Fried Rice
Black Bean Burgers
Chili
Black Bean Soup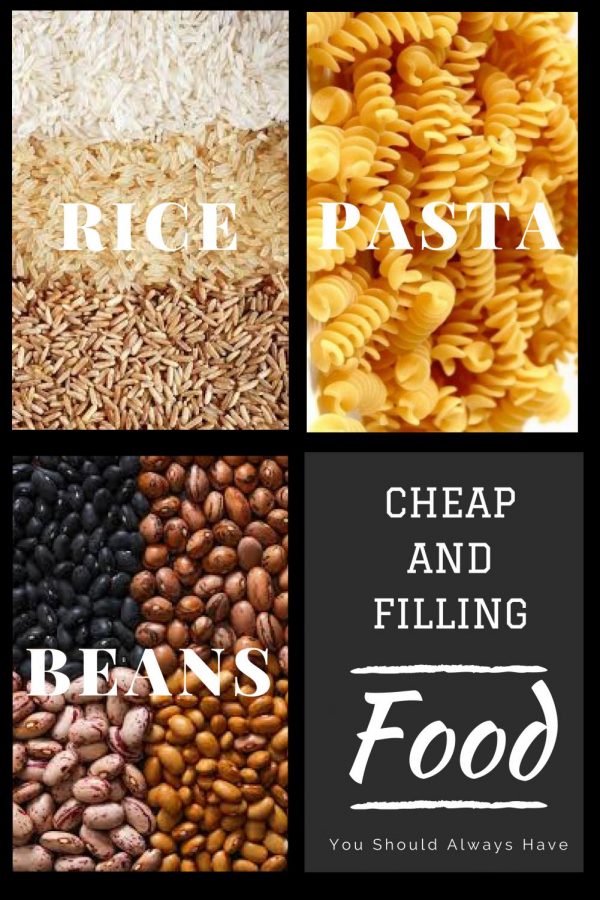 Paying for tuition, books, and tedious meal plans can leave students broke and make a healthy or consistent diet a challenge. Living off-campus can be just as hard with bills, responsibilities and tuition. A recent study, involving 66 universities, found that students all over the nation are battling with hunger.
But what can we do about it?
Inform
People who struggle with hunger are silent about it. It is important to know how your diet and not eating can affect your health. Food is fuel for the brain, muscles and body. Hunger can have emotional, physical and mental consequences on all ages, according to The Alliance to End Hunger.
There are churches, nonprofits, and schools that help fight hunger. Food pantries will give free food to those in need. On average, they give canned goods, breads and nonperishables. There is rarely a protein like beef or chicken. If you are out of food, you can find a food pantry near you using https://www.foodpantries.org/.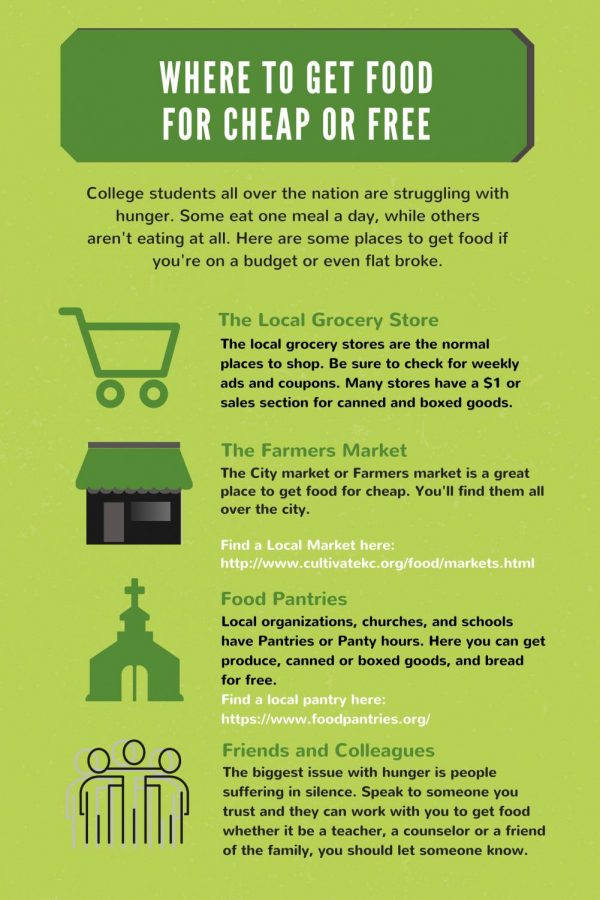 Educate
Students entering college are learning how to manage money, live without parents and survive on campus. It's all new and there isn't a lot of money so learning where and how to shop on a budget is helpful.
Try your local markets for fresh produce for cheap. The city market, located off 5th street in downtown, has a variety of foods, produce and spices available for purchase. You can find ethnic foods from local vendors and fresh produce for surrounding areas. Produce is priced by the dollar, spices by the scoop, nuts by the pound. You are able to purchase locally made goods and you can have lunch at one of the many restaurants with Indian, American or Italian food.
In some cases, you can bargain with the vendors for a cheaper price. I took a trip and purchased some almonds. My total was seven dollars. "how much do you have?" the vendor asked, "I've got six bucks", I told him. "That's ok. I'll take it.", he said, and like that I had almonds.
Check out The $20 Market Trip to see how far twenty-dollars can go at the Kansas City Downtown city market.
Some grocery stores have a "$1" section where you can find quick box meals, bread close to expiration or discontinued items. You can also find deals or coupons in circulating ads (ask your friends or parents).
Stores like Walmart and Hy-Vee allow you to shop online for groceries. Try using their sites to compare prices including taxes. Stores like Aldi's have a good variety of produce and foods for less than most grocery stores.
Collaborate
Hunger affects millions of people across the country. Over 40 million families deal with food insecurity, according to the U.S. Department of Agriculture. Working with your community, coworkers and university can benefit everyone. If you are fortunate enough to eat every day or all day, consider donating extra canned goods or boxed goods to a friend, local church or food drive. You can take nonperishables, like boxed goods and canned goods to a local food drive to benefit the hungry. People aren't just hungry around the holidays or in the winter, but all year round.
Consider the following recipes to stretch your college food dollar.