More clubs at Park university to foster students' participation
Park University held the Student Activities Fair on Friday, Jan. 24, on the first floor of Thompson Commons. The event was held to help students get familiar with the organizations, clubs, activities, and opportunities on campus.
The fair had representation from more than 20 current clubs and organizations. Some of the clubs represented at the fair were the Park Student Activities Board, Modern Language Club, Park International Club, Black Student Union, Volunteer Club, Scribe Club, and the Rotaract Club.
Kiara Puente, a sophomore social work major, said she always looked forward to making new friends and finding good opportunities at the fair. She was especially interested in the Rotaract Club because it gives her opportunities to volunteer in different places, especially as a social work major.
"I go to be more connected to people and for opportunities that would benefit me anyway in the future," she said.
Madelyne Hartleroad is a senior English major as well as being the marketing editor of The Scribe, Park's literary magazine. Hartleroad said their booth was to recruit students to a Google form that students can access through their email to upload anything they like to submit. This link is emailed out to students on their mailing list, and they publish student artwork for stories and poetry every year.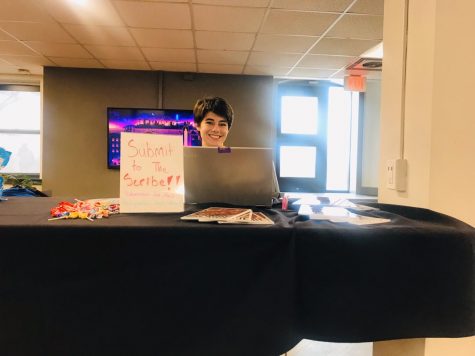 Future Business Leaders of America, also known as Phi Beta Lambda, attracts members from different majors, according to Henry Franklin, a junior history major. Franklin said for the spring semester they prepare for competitions in projects related to business, while in the fall they focus on volunteering, doing work around campus or just having fun. He added it is an interdisciplinary and business club with members from different majors as well as business majors. In addition to the Students Activities Fair, they create awareness as a club by organizing fundraisers, visiting freshman classes and through word of mouth.
The booths had exciting giveaway items for students who stopped by. The event was rescheduled from Friday, Jan. 17, due to poor weather on that day.