Park University student athlete featured in documentary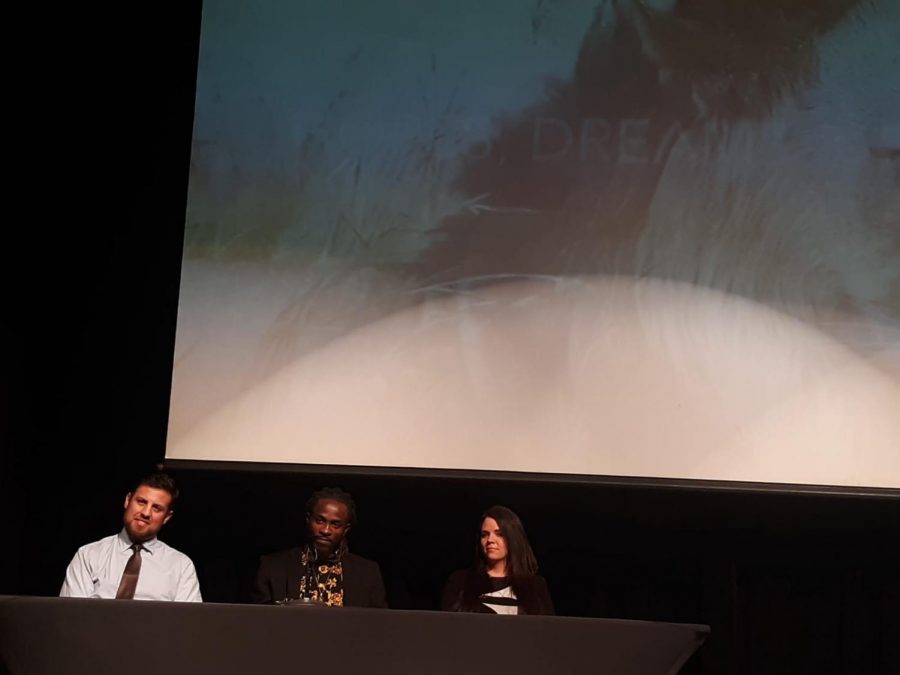 On Friday, March 26, Park University hosted an event focused on one of the members of its men's basketball team, Joseph Mebaley. The event featured a showing of the documentary, Hopes, Dreams and Basketball: Joseph's Story. It took place in Alumni Hall and featured some of Mebaley's friends.
The short movie, produced by Jason Samayoa, tells Mebaley's story during his first years at the United States and how he achieved his goal to be one of the first Gabonese to play college basketball in America. Samayoa is currently working as a Title IV specialist at Park.
Samayoa and Mebaley developed a friendship when they studied together at Penn Valley Community College. Interested in Mebaley's life and his story, Samayoa thought it would be a good idea to make a movie about the African player.
"He is a very nice person. His energy attracted me, so I decided to make the movie," he said.
When the movie ended, the people in the audience were able to ask Mebaley and Samayoa questions. During one of his answers, the Gabonese native said he was very happy to have a movie about him.
"I just want to inspire people, some people want to shut you down when you have big dreams like this," he said. "I'm happy to see that I can touch people's heart and help them to stay focus."
The documentary has also been shown in Gabon. He said his family is proud and told him to keep up the good work because he is representing his country. Also, a journalist from Gabon, attracted by the movie, proposed a basketball camp for people who want to play the sport in the United States.
The junior business major Mebaley is completing his second semester at Park University. According to him, Park does everything to put their students in a position where they will be successful, and that is one of the reasons why he likes the college.
At the end of the event, the basketball player stated his dream of becoming the first Gabonese player in the NBA. But, the achievement of a basketball camp in his home country is his biggest accomplishment in his life so far.
"Legacy is not just when you are alive, but you have to be remembered when you are dead too," he said. "Of course NBA would be a big achievement, but I think this camp is as big as the NBA."