Zime new student favorite for food
Hang on for a minute...we're trying to find some more stories you might like.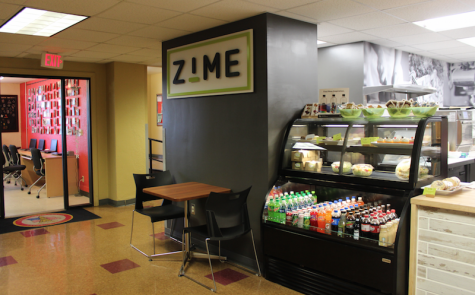 As Park grows, the need for more readily available food accommodations of campus increases. The Pirate Market, Jolly Roger Cafe and Pirate Cafe were among options for dining and food on campus, until this past November, when a new concept, called Zime, was opened.
Zime is a modern bakery-cafe located on the first floor of Thompson. It opened the first week of November 2016. Zime offers fresh, healthy food at an inexpensive price to students and faculty. The concept was added by Sodexo to "provide more options and flexible hours to students on the go or between classes" according to Bridges, an on-campus Sodexo employee. Bridges played a major part in the opening of Zime, as she traveled to Denver to help develop the menu and train on the specs of operations for the cafe.
Zime's menu includes hot sandwiches, soups, fresh salads, smoothies, fresh fruit, as well as bottled beverages, chips and other snacks. Weekly specials are featured as well – the mac and cheese being one of the most popular items.
Students seem to enjoy the variety of healthy options and good price, as well as the convenient location.
Max Mohr, a journalism and public relations major, said, "It's cool that they did something with that space. It's very convenient and the hours are nice. It is a great alternative to the cafeteria."
Zime is open Monday through Thursday from 11 a.m. to 7 p.m. and Friday from 11 a.m. to 2 p.m. The first floor of Thompson has various seating areas, with the addition of multiple bistro tables added around the cafe.